Michael Boyle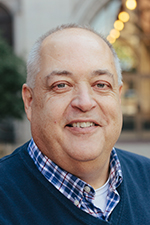 Title: Associate Professor of Pastoral Studies
Department: Pastoral Studies
Location: Chicago
School/Area: Undergraduate
Position: Teaching
Start Date: July 2007

Educational Background:
BS, University of North Dakota
ThM, Dallas Theological Seminary
DMin, Gordon-Conwell Theological Seminary
Publications:
"Nahum." The Moody Bible Commentary. Eds. Rydelnik, Michael & Vanlaningham. Chicago: Moody, 2014.
Professional/Personal Interests:
My passion is to equip and encourage the next generation to shepherd the flock of Jesus Christ with integrity of heart and with skillful hands of leadership. My desire is to see them become communicators of the God's Word, heart-focused practitioners of His truth and leaders in the Church of Jesus Christ. I enjoy spending time with my wife and our five children and my one son-in-law. We like to spend our free time traveling around the neighboring communities as well as long summer trips in the car. And when we do this, I like to track down the American history of the area and visit the sites.
Faculty Spotlight
Title: Maintenance Instructor
Department: Missionary Aviation Technology
School / Area: Undergraduate