David Finkbeiner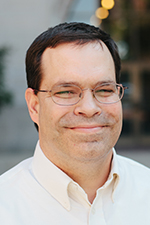 Title: Professor of Theology; Program Head
Department: Theology
Location: Chicago
School/Area: Undergraduate
Position: Teaching
Start Date: August 1998

Educational Background:
BA, Bob Jones University
MA, MDiv, Biblical Theological Seminary
PhD, Trinity International University
Publications:
"Built Upon the Truth: Biblical Authority Yesterday and Today." In Foundational Faith: Unchangeable Truth for an Ever-Changing World, ed. John Koessler. Chicago: Moody, 2003.
"Proverbs," "Ecclesiastes." The Moody Bible Commentary. Eds. Rydelnik, Michael & Vanlaningham. Chicago: Moody, 2014.
Faculty Spotlight
Title: Associate Professor of Theology
Department: Theology
School / Area: Undergraduate