Betty-Ann Lynerd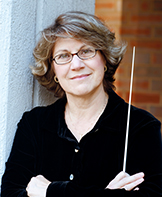 Title: Senior Visiting Professor of Music
Department: Music
Location: Chicago
School/Area: Undergraduate
Position: Teaching
Start Date: July 2011

Personal Information:
Dr. Lynerd has conducted choirs throughout the United states and abroad; her choruses have sung in Russia, Italy, with the National Symphony Orchestra and members of the Cleveland Orchestra, and at the United States Naval Academy. Active in the American Choral Directors Association, Dr. Lynerd has served as its president for Washington, D.C. and Maryland. Recently she has taught at Saints Bible Institute in Venice, Italy, and at the International Christian School of Hong Kong. Past faculty appointments have included The King's College, Nyack College, George Mason University and Ohio's Cuyahoga Community College. She has taken Moody's Women's Concert Choir on a tour of Italy as well as to 20 different states. At Moody she teaches introductory and advanced courses on church music philosophy and ministry.
Educational Background:
BMus, Westminster College
MA, Montclair University
DRS, Trinity Theological Seminary
Professional/Personal Interests:
For 25 years Dr. Lynerd served as a church music director, and continues as an invited speaker at seminars including Moody's Pastors' Conference and at Moody's Spokane campus.
Faculty Spotlight
Title: Associate Professor of Urban Ministries; Program Head
Department: Intercultural Studies
School / Area: Undergraduate
"I like to think big things for God! He deserves it. Whether it's evangelism, or your work or your money, whatever it is, you ought to think of big ways you can be used for God."
— D.L. Moody, Founder
Moody Bible Institute