Jennifer Mills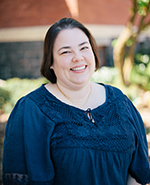 Title: Associate Professor of Communications
Department: Communications
Location: Spokane
School/Area: Undergraduate
Position: Teaching
Start Date: July 2009

Personal Information:
Her ministry background includes service as a teacher overseas in Managua, Nicaragua and Bangkok, Thailand. Her areas of specialization and expertise include British literature, rhetoric, composition, and linguistics. She teaches College Writing, Research Writing, Literature from C.S. Lewis, British Literature, American Literature, and Linguistics. She is a member of the Modern Language Association and the Council for Christian Colleges and Universities. Dr. Mills is also a tutor in the Ancient Christian Studies Honors Program. 
Educational Background:
BA, Spring Arbor University
PhD, Baylor University
Professional/Personal Interests:
Her interests include reading, traveling, camping, skiing, white water rafting, and kayaking.
Faculty Spotlight
Title: Adjunct Instructor
Department: Communications
School / Area: Undergraduate