Eric W. Moore
Title: Assistant Professor of Pastoral Ministries
Department: Pastoral Studies
Location: Michigan
Position: Teaching
Start Date: Fall 2004

Personal Information:
Eric W. Moore is an Assistant Professor in Pastoral Ministries at Moody Theological Seminary–Michigan. Along with his duties at MTS–Michigan, he is the Pastor and Co-founder of Tree of Life Bible Fellowship Church of Southfield, Mich. 
He is a graduate of Michigan State University, the University of Michigan, Dallas Theological Seminary and Western Seminary.  
Eric and his wife Marilyn have three children.
Educational Background:
BS, Michigan State University
MA, Dallas Theological Seminary
MBA, University of Michigan
DMin, Western Seminary
Professional/Personal Interests:
Evangelical Theological Society
Faculty Spotlight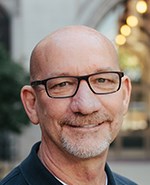 Title: Professor of Youth Ministry; Program Head
Department: Educational Ministries
School / Area: Undergraduate