Michael Orr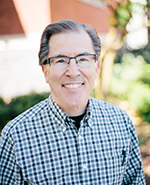 Title: Adjunct Professor of Communications
Department: Communications
Location: Spokane
School/Area: Undergraduate
Position: Teaching
Start Date: August 1993

Personal Information:
Michael Orr began teaching in 1993 at MBI-Spokane. 
His ministry background includes service in youth and evangelistic ministry, and in Jewish evangelism for six years. His areas of specialization and expertise include education and related topics, spiritual formation, media topics, and speech communication. He teaches College Writing, Speech Communication, Research Writing, Spiritual Life and Community, and Studying and Teaching the Bible. 
He is a member of the National Communication Association.

Educational Background:
BA, Moody Bible Institute
MA, University of St. Thomas
PhD, University of Missouri
Publications:
"Film as a Means for Worship and Illustration." The Moody Handbook of Preaching. ed. John Koessler. Chicago: Moody, 2008
Professional/Personal Interests:
Curriculum development and cross-cultural teaching
Running and biking
Faculty Spotlight
Title: Adjunct Professor, Moody Theological Seminary
Department: None
School / Area: