Gregg Quiggle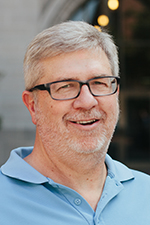 Title: Dean of Study Abroad Programs; D. L. Moody Professor of Theology
Department: Theology
Location: Chicago
School/Area: Undergraduate
Position: Teaching
Start Date: January 1987

Educational Background:
BA, Wheaton College
MA, Wheaton College Graduate School
MA, Marquette University
PhD, Open University
Publications:
"Proclaiming Jesus in Water, Bread, and Wine: The Place of Baptism and Communion in the Gospel." In Proclaiming Jesus: Essays on the Centrality of Christ in the Church in Honor of Joseph M. Stowell, ed. Thomas H. L. Cornman,  Chicago: Moody, 2007, 113-37
"Nothing but the Blood: The Substitutionary Atonement of Christ." In Foundational Faith: Unchangeable Truth for an Ever-Changing World, ed. John Koessler, Chicago: Moody, 2003, 129-51
"R. A. Torrey." In Encyclopedia of Religious Revivals in America, ed. Michael McClymond. Westport: Greenwood, 2006. 
"Moody Monthly." In Popular Religious Magazines in the United States, ed. Mark P. Fackler and Charles H. Lippy. Westport: Greenwood, 1998.
"How Christian Schools are Coping with the Computer Invasion." Christian Advertising Forum. (1984).
Professional/Personal Interests:
Professional:
History of religion in America, reformation, Christianity and culture
Personal: 
College football, Major League Baseball, coaching baseball, military history and biographies
Faculty Spotlight
Title: Adjunct Instructor
Department: Music
School / Area: Undergraduate