Timothy Sisk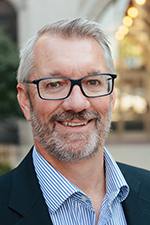 Title: Professor of Intercultural Ministries; Program Head
Department: Intercultural Studies
Location: Chicago
School/Area: Undergraduate
Position: Teaching
Start Date: August 2004

Educational Background:
BA, Tennessee Temple University
ThM, Dallas Theological Seminary
DMin, Fuller Theological Seminary
Publications:
Coauthored with Keita Takagi. Kon Nichi ni Okeru Kiseki, Iyashi, Yogen (or The Third Wave Movement and Missions Today). Tokyo: Inochi no Kotoba Press, 1996
Coedited with Gary Fujino and Tereso C. Casiño.  Reaching the City:  Reflections on Urban Mission for the Twenty-first Century. Evangelical Missiological Society Series, volume 20.  William Carey Library, 2012.
Professional/Personal Interests:
Church Planting
History of Missions
Global Theology
Faculty Spotlight
Title: Special Instructor of Bible
Department: Bible,Theology
School / Area: Undergraduate