Brian Writebol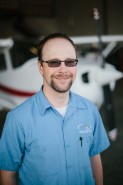 Title: Assistant Professor of Missionary Aviation Technology
Department: Missionary Aviation Technology
Location: Spokane
School/Area: Undergraduate
Position: Teaching
Start Date: March 2013

Personal Information:
He served with Mission Aviation Fellowship in Democratic Republic of Congo as a maintenance specialist. After returning from the field, Brian worked at Covington Aircraft in Oklahoma.
Educational Background:
BS, Moody Bible Institute
"I have never seen such unwavering dedication and commitment to the person of Jesus Christ, to His Word, and to the glory of His name, as I saw in my Moody professors." 

"



— Chris,
B.S. in Missionary Aviation Technology