Develop your Creative Talents to Tell God's Story
Discover What's Possible with a Bachelor of Arts in Communications
The Bachelor of Arts in Communications program provides you with the best instruction and opportunities to master your craft and grow professionally and spiritually for an eternal purpose. Like Tabitha, you can receive cutting-edge training in ministry media as you become immersed in a world of creativity and collaboration. You'll sharpen your creative skills and learn to produce compelling, Christ-centered messages that tell God's story through:
Photography
Videography
Graphic design
Fine art
Speech
Drama
Broadcasting
Writing
"The Communications program is an incredible community of students and professors who will challenge you and make you better. I run my own business now and use my graphic design and video editing training from Moody regularly."

Tabitha Allman
2019 Communications Graduate
You'll also enjoy an unmatched creative and academic experience. No other college offers a Communications program that equips students with resources and expertise from two renowned Christian media outlets, Moody Publishers and Moody Radio, and the Moody Media Lab, a professional student-led creative agency.
Plus, you'll live and study in multicultural Chicago, just miles away from hundreds of rich ministry opportunities. You'll also thrive under professors who help you skillfully navigate today's evolving media channels and engage an ever-changing culture.
Here are programs similar to Communications
Classes that will Stretch and Equip You
As God's people, we are called to tell His story to an unbelieving world. Learn how to communicate God's truth with excellence and purpose in these dynamic and engaging courses.
Core Classes
Introduction to Communications: Theory, History, and Ministry
Core Tools: Words
Core Tools: Images
Senior Communications Seminar
Available Electives
Fundamentals of Creative Writing
Introduction to Photography/
Photojournalism
Oral Interpretation
Multimedia Storytelling
Creative Arts in Ministry
Nonprofit Communications
Advanced Drama
Fundamentals of Audio
Persuasion and Debate
Special Topics in Communications
Interpersonal/Team Communications
Advanced Speech
Media Strategy
Writing Feature Articles
Advanced Visual Design
Advanced Audio Production
Voice and Performance
Fiction Writing
Fundamentals of Video
Creative Nonfiction
Video Editing
Principles of Cinematography
Investigating and Reporting Across Media
Editing for Publication
Biblical Perspectives of Media and Culture
Graphic Design
Script Writing
For detailed program schedules and information, click the button below.
Meet your Communications Professors
Brian Kammerzelt, Kelli Worrall, Robert Gustafson, and other members of our Communications faculty have years of hands-on experience in a vast array of multimedia fields. They are passionate about the gospel and teaching students like you to communicate God's story with their creative gifts. Here's what students are saying about our professors:
"I am continuously shocked at how much the communications professors care about students. I could give you a million examples: emails about opportunities that might interest me, last-minute meetings, talking after class, grabbing a quick meal."

Justin S.
Communications Major
"The conversations and feedback from professors Kammerzelt, Gustafson, and others helped me to identify my strengths and learn to recognize my own voice."

Lauren Kidd
Moody Communications Graduate
Ways you will Flourish in this Program
As you progress through your coursework, you will:
Research the theory and theology of communications
Share the gospel using tools and techniques in your chosen medium
Use creative computer programs like Adobe's editing suite
Build your professional portfolio
Theologically evaluate the evolving media and cultural landscape
Develop your biblical philosophy of creativity and communication
Create and communicate inspiring messages across contexts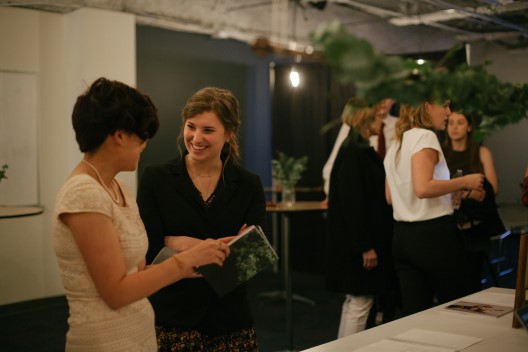 After you Graduate with your Communications Degree
When you graduate, you'll have a professional portfolio and access to an extensive global network of ministry partners eager to hire theologically sound, practically trained storytellers like you. You can prepare to launch a purposeful career as a:
Graphic designer
Photographer
Writer
Radio host
Videographer
Actor
Media firm manager
We understand the challenges of choosing the right school and the right program, and considering factors such as location, housing, and cost can be overwhelming. But if you have a passion to influence lives for Christ through redemptive and creative media, Moody is the place for you! Discover how far your talents can go with a Moody Communications degree.
"While at Moody I have significantly grown as a creator. As a videographer, I've been able to utilize so many tools at Moody, and I'm so thankful to be a part of a program that equips me so well. I've also matured in working in a team environment and collaborating with others."

Victoria B.
Moody Communications Student
"Being on the journalism team gave me opportunities to practice what I was learning, engage more fully in Chicago, and work on a creative team. It also was instrumental in me landing my first full-time job as a Bible translator at Seed Company. If you have a heart to serve Christ's global church, I can't imagine a better fit than Moody. I continue to use the storytelling principles I learned through the Communications program in my job."

Lauren Kidd
2017 Moody Communications Graduate
Are you ready to learn, grow, and train to use your creative talents for God's glory?
Discover what's possible—Your Future Is Now!
Financial Aid
For on-campus residential students, every class in your degree is paid for by the Chicago Tuition Grant, sponsored by faithful donors. Every residential Chicago undergraduate student is awarded this grant, worth up to $12,960 a year. Off-campus commuter students pay $380 per credit hour. Find out how to defray the remaining costs with scholarships, grants, student loans, student employment, and veterans benefits.