ALUMNI ASSOCIATION
The Moody Alumni Association is a dynamic relationship of former students who share a common spiritual heritage.
Mission
---
We seek to facilitate mutually beneficial relationships based upon shared Moody experiences and to serve as a vehicle for relevant ministry around the world.
Values
---
Four values drive the direction of the Alumni Association.
Authentic Relationships

The connections shared by alumni with each other and with Moody are very special and deserve to be preserved and enhanced.

Relevant Service

The Alumni Association provides encouragement and ministry to alumni throughout their lifetimes.

Heritage

We desire to honor Moody's rich history and the people who shaped Moody's ministries over the years.

Global Perspective

The Alumni Association considers, represents, embraces and serves the interests of all alumni around the world.
Services and Awards
---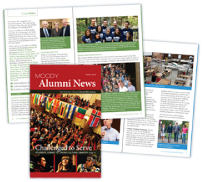 The Alumni Association provides services to encourage alumni in their lives and ministries, including gatherings, Moody Alumni News magazine, career development and more.
Another form of encouragement to our alumni is to recognize service and a servant's heart in ministry to others for our Lord and His kingdom. There are several awards through which the Alumni Association acknowledges these individuals.
Representation
---
The Alumni Association represents alumni interests to the leadership and staff of Moody, and represents Moody's interests and events to alumni. This representation occurs at many venues, including Moody conferences and programs, staff and board meetings, and Alumni Association events.
The Alumni Board meets twice annually and consists of 11 graduates who serve in an advisory capacity, providing guidance to the Alumni Association staff and suggestions for other areas of Moody.
Conferences, programs and special events at Moody—including Founder's Week, Missions Conference, Commencement, Pastors' Conference and others—provide opportunities for the Alumni Association to interact with students, faculty, administration and alumni. Educational meetings at Moody, including faculty meetings, Dean's Council, Student Services Council and the Admission Committee, are times when alumni may discuss interests with various segments of the Moody community.
In addition, the Moody Alumni Association hosts numerous events throughout the year around the country and internationally. These gatherings provide opportunities for fellowship and networking among alumni. Future students and people not familiar with Moody can learn about Moody's ministries at these events.