ALUMNI ASSOCIATION SERVICES
Membership
---
Former students are considered alumni if they have completed at least 15 hours of college-level work. There is no membership fee for the Alumni Association, though there are various opportunities in place for alumni to contribute to specific Moody projects and alumni awards.
Connections
---

Gatherings
Alumni events and gatherings are held periodically across the country, and occasionally overseas. For more information about alumni events in your area and reunion opportunities at each Moody campus, visit our Events page.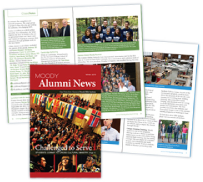 Alumni News Magazine
The Moody Alumni News is printed three times a year and highlights campus news, upcoming events, and alumni updates and photos; It is distributed to all alumni unless otherwise requested. You can also view the magazine in digital format on our web page here. To submit your own update or story for the magazine please email our magazine editor.
Printed and Online Directories
Alumni may contact the office to update their contact information and locate former classmates. A secure online directory, via the Moody Alumni portal is also available for alumni to interact with. Approximately every three years, a printed directory is also compiled and made available for purchase to Moody alumni only. Fill out this form to update your information for these directories.
Transcript Requests
Alumni can request an official Moody transcript through Moody's online ordering services. The Office of Academic Records now offers both electronic and hard copy transcript delivery.

Campus Resources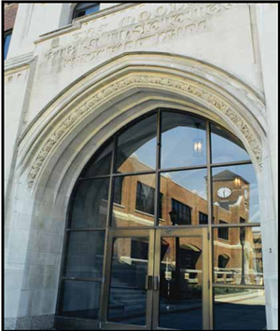 ---
Athletic Center and Library
Alumni have access to the Solheim Center and Crowell Library.
There is a $2 fee (cash only) for each visit to the Solheim center; passes are also available for immediate family members of alumni.
Membership to Crowell Library is available for $10 per year. With a membership, alumni can check out books and print resources, use library facilities, and access Crowell's Online Research Database
Career Development
The Career Development Office is an ongoing ministry to students and alumni that assists in career counseling, job searches, networking, and career skills. Alumni can also visit the Career Services website to search for open positions and post resumes for prospective employers to peruse. For more information or contact them at careerdev@moody.edu or (312) 329-4414.
Alumni Campus IDs
Upon arriving at Moody's Chicago campus, you will be asked to provide identification. Previously, alumni were required to use a temporary ID provided by Facilities upon every visit. Now, a more permanent ID can be made with your name and picture for easier identification around campus.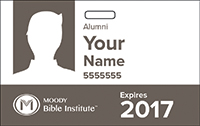 To have your ID made, visit the Alumni Office located in the lobby of Smith Hall (next to the Museum). Once you fill out the verification form, the Alumni staff will direct you to the Facilities office where the ID will be made free of charge!
Please note:
The Facilities office is open Monday to Friday, 8–4 p.m.
This ID must be renewed annually through the Facilities office.
Your Alumni ID will expire after 4 years. Renewals for this ID are free of charge.
Replacements for lost ID's will cost $5.