Alumni Connections | Moody Bible Institute > Alumni in the Media - Alumni Connections | Moody Bible Institute
ALUMNI IN THE MEDIA
Books, articles and other media by Moody graduates.
posted in: Alumni Connections > Alumni in the Media
November 21, 2012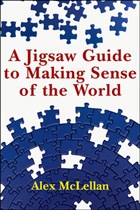 by Alex McLellan '96 – It is common knowledge that the world does not make sense. In this book, McLellan seeks to look at clues in the universe and human experience to piece together the puzzle that is life.
Read More