Alumni Connections | Moody Bible Institute > News - Alumni Connections | Moody Bible Institute
ALUMNI NEWS
Upcoming events, offers and other news for Moody graduates.
posted in: Alumni Connections > News
November 5, 2013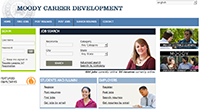 Are you an Alumni looking for a job? We are pleased to announce that the Career Development Center, in conjunction with Moody Alumni Association, now offers a new Career Finder application for Alumni. Click here for more information.
Read More