ALUMNI CAMPUS VISITS
Chicago is a filled with exciting attractions, which makes it a fun city to visit. As Moody alumni, you are always welcome to visit campus when you're in the area.
Upon Arriving
---
We encourage you to contact the Alumni Association when you are planning to visit Moody. This will allow us to better prepare for your arrival and make sure your time on campus is as enjoyable as possible. Upon arriving at Moody's Chicago campus, you will be asked to provide identification, be given a temporary visitor ID and be directed to the Alumni Association Office.
Parking
---
Visitor Parking
Moody has limited parking available for visitors while they're visiting campus. Daytime parking passes are available from the Alumni Student Center at 821 N Wells. Visitors staying overnight on campus can request overnight parking from Facilities or Public Safety.
Alumni Parking:
If you are coming to visit the Institute you are more than welcome to visit the ASC Welcome Desk and obtain a Lot B visitor parking tag for the day. Please park your vehicle in our 15 minute parking area just outside of the ASC building on Wells St. If you will be staying on campus or attending business or an event on our campus and you would need parking for more than one day please visit or email the Facilities Office at facilities@moody.edu. If you visit us over the weekend we encourage you to email the Facilities Office 24 hours in advance so that a parking pass can be prepared for you.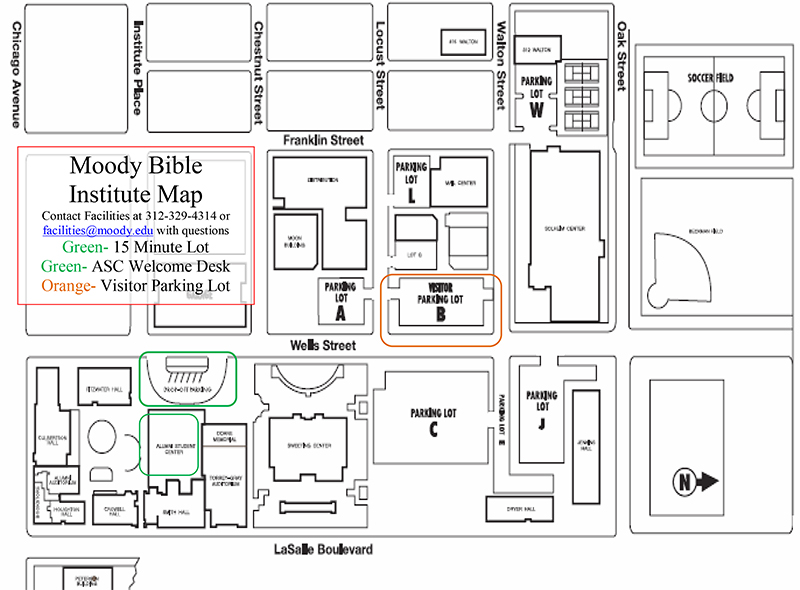 Multi-Day Visits
---
In the Alumni Office, staff will assist you in planning your visit and replace your visitor ID with a temporary alumni ID. If you anticipate that your visit to Moody will last longer than a single day, please contact the Alumni Association in advance of your visit so they can assist you.
Weekend / After Hours Visits
---
If you arrive on campus on a weekend or after normal business hours, please proceed to one of the visitor desks where you will be asked to provide identification, be supplied with a temporary visitor ID and be given instruction to follow during your visit.
Before You Depart
---
Your temporary ID must be returned to a visitor's desk before you leave campus. If you are a frequent visitor to the Chicago campus, you can speak with an Alumni Association representative about a permanent photo ID (renewable annually). This will also serve as your pass to access Solheim Athletic Center.
Contact Us
---
If you have questions, please contact us at (312) 329-4412. Our office hours are Monday–Friday, 8 a.m.–4:30 p.m. Central Time. We look forward to your visit!
Moody Bible Institute seeks to maintain a safe campus environment and reserves the right to regulate visitor access as they deem appropriate. Only alumni who are in good standing will be issued an ID.