a pastor to the police
Chaplain Laird Baldwin '72 offers spiritual assistance and stress reduction for police in southwestern Ohio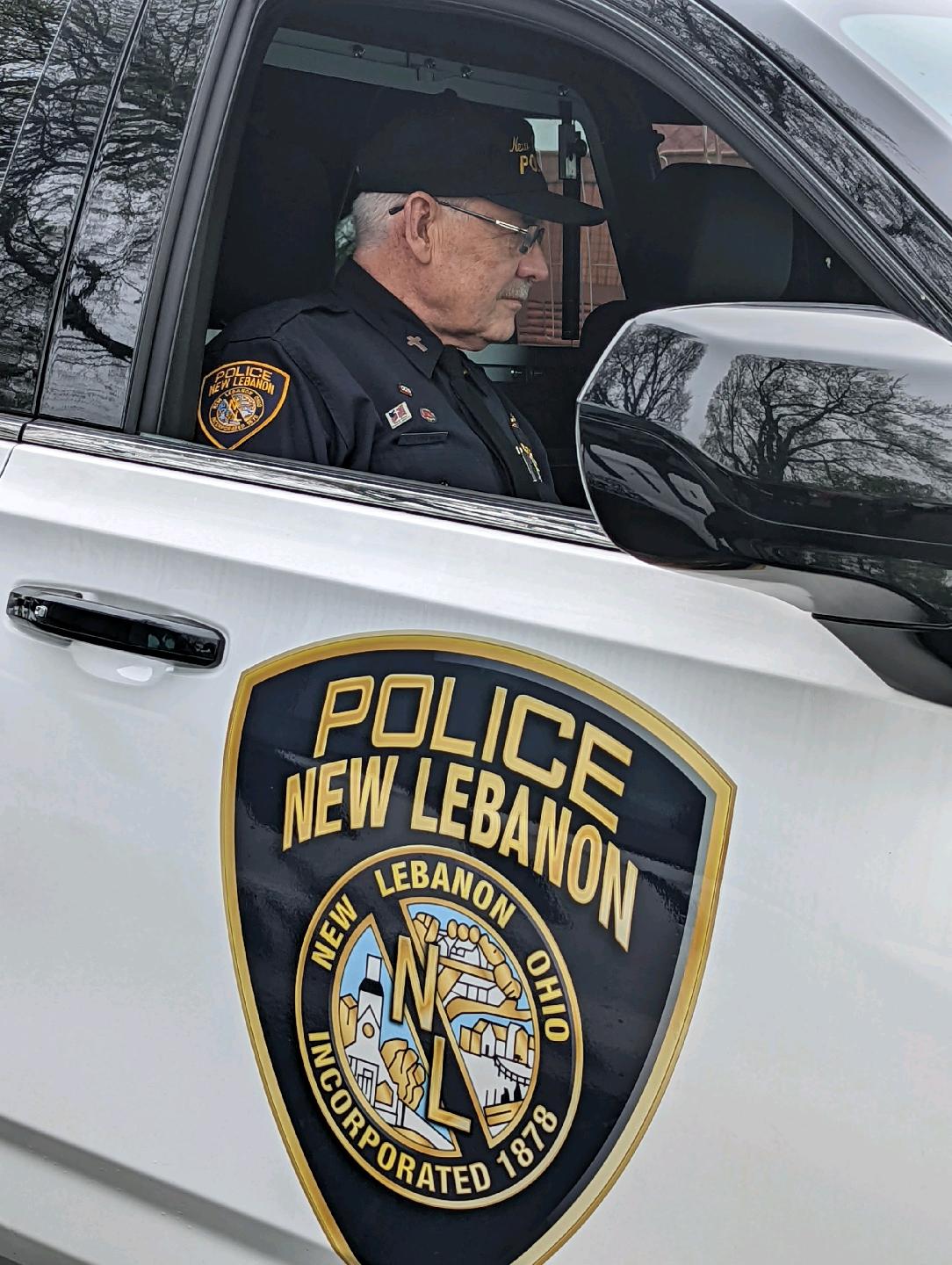 Laird Baldwin, a 1972 Moody Bible Institute graduate, serves as chaplain with the New Lebanon and Brookville, Ohio, Police Departments.
By Linda Piepenbrink
When a woman called 911 to report that her husband was threatening to shoot her, police officers raced to the scene, accompanied by Chaplain Laird Baldwin '72. As the officers pursued the suspect, the wife began to follow them, but Baldwin quickly pulled her aside. "I'm the police chaplain," he told her. "Why don't you stay over here, and I'm going to have prayer with you."
The wife stopped. "Oh, would you please?"
A few minutes later, the officers had disarmed the man and put him in handcuffs. An officer told Baldwin, "Boy, I'm glad you were here because it kept innocent people from getting into that situation."
Spiritual and emotional assistance
Though not a sworn officer with the power to arrest, Baldwin wears a class 3A ballistic vest and is trained in firearms. As a volunteer chaplain with the New Lebanon and Brookville Police Departments in western Montgomery County, Ohio, he offers spiritual and emotional assistance in difficult situations—armed assaults, accidents, juvenile issues, and domestic violence. "We work as a team," he says.
Baldwin has also done death notifications, telling a family when a loved one has passed away in a tragic accident. For example, when a woman's husband fell into a factory's acid vat and died, it was overwhelming.
"When I pray with people, I will be honest to say, 'Lord, I don't know how to help these people, but You know. I need You to do a work of grace in their hearts, to comfort them now in ways that are beyond human comprehension.'"
"Sometimes people don't expect you to have the answer. They just need to have someone they can talk to and a shoulder to lean on and cry on. I have to win them to myself and let them know I personally care for them, and then they'll listen to the gospel message."
Preparation at Moody
Saved at age 7, Baldwin was already sharing the gospel and filling pulpits regularly by age 15. At Moody, professors such as Dr. Donald Smith taught him to hone those talents and abilities into sermon outlines. Baldwin learned how to prepare evangelistic sermons from Moody President Dr. George Sweeting, with one memorable piece of advice called the 5 Bs: "Be brief, brother, be brief."
With family ties to police work, Baldwin was naturally drawn to serve in law enforcement while at Moody. For two years, his Practical Christian Ministry was preaching every Sunday in the Cook County Jail. He would also volunteer at Pacific Garden Mission or meet people asking for handouts. "You learn to interact with all kinds of people—and that's part of chaplaincy too."
Pastor to police officers
Baldwin has pastored Bible Baptist Fellowship in Brookville, Ohio, for 16 years. The church is affiliated with Regular Baptist Chaplaincy, a ministry involved with chaplains in the military and in community service. In addition to his chaplaincy ministry in New Lebanon and more recently Brookville, he works with an auxiliary of the nearby Dayton Police called Police and Clergy Together.
During rides with police officers, he ministers to their personal and spiritual issues. "I deal with them as a pastor would, except in my case, my congregation happens to be sitting in the front of a police car," he says.
The stresses of police work are great. "I don't have to say how unpopular law enforcement has been nationwide," he says. "So the guys really appreciate having a chaplain along. They like the support. They like to know someone's praying for them."
Baldwin respects the officers on the police force. "The officer I'm riding with may be a rank unbeliever," he says, "but it's the same guy who's going to put his life on the line for me if necessary."
Spiritual fruit
Sometimes his relationships bear eternal fruit. After Baldwin rode and conversed with an officer named Hank, the officer began to go to church. "One day he was all excited to have me in the car with him again so he could tell me he had trusted Christ as Savior," Baldwin says. "He was just all lit up. It was really great."
On a recent Monday, Baldwin was riding with David Clarkston, a police officer with the New Lebanon Police Department, when they were called to a rehabilitation home where an IV drug user in her 30s was acting out. David and another police officer tried unsuccessfully to calm her down until she found out Baldwin was a chaplain.
"He prayed with her, and she actually calmed down a lot talking to him compared to talking to me or my partner or the nurses or the doctor," Clarkston says. "We would have probably had to go physical and tase that lady if it wasn't for him actually being there that day."
Over the years Baldwin has won numerous awards and recognitions for his chaplaincy service. He is also the only certified crime prevention specialist in his department. In that role he meets with the business community and churches, discussing various crime prevention and safety techniques.
"All of that comes under the broad umbrella that I'm there, first of all, to be a witness and testimony for Christ," he says.