Lighting the Way for Jews to Know Jesus
Moody Bible Institute training Ukraine native for full-time ministry sharing the gospel with Jewish people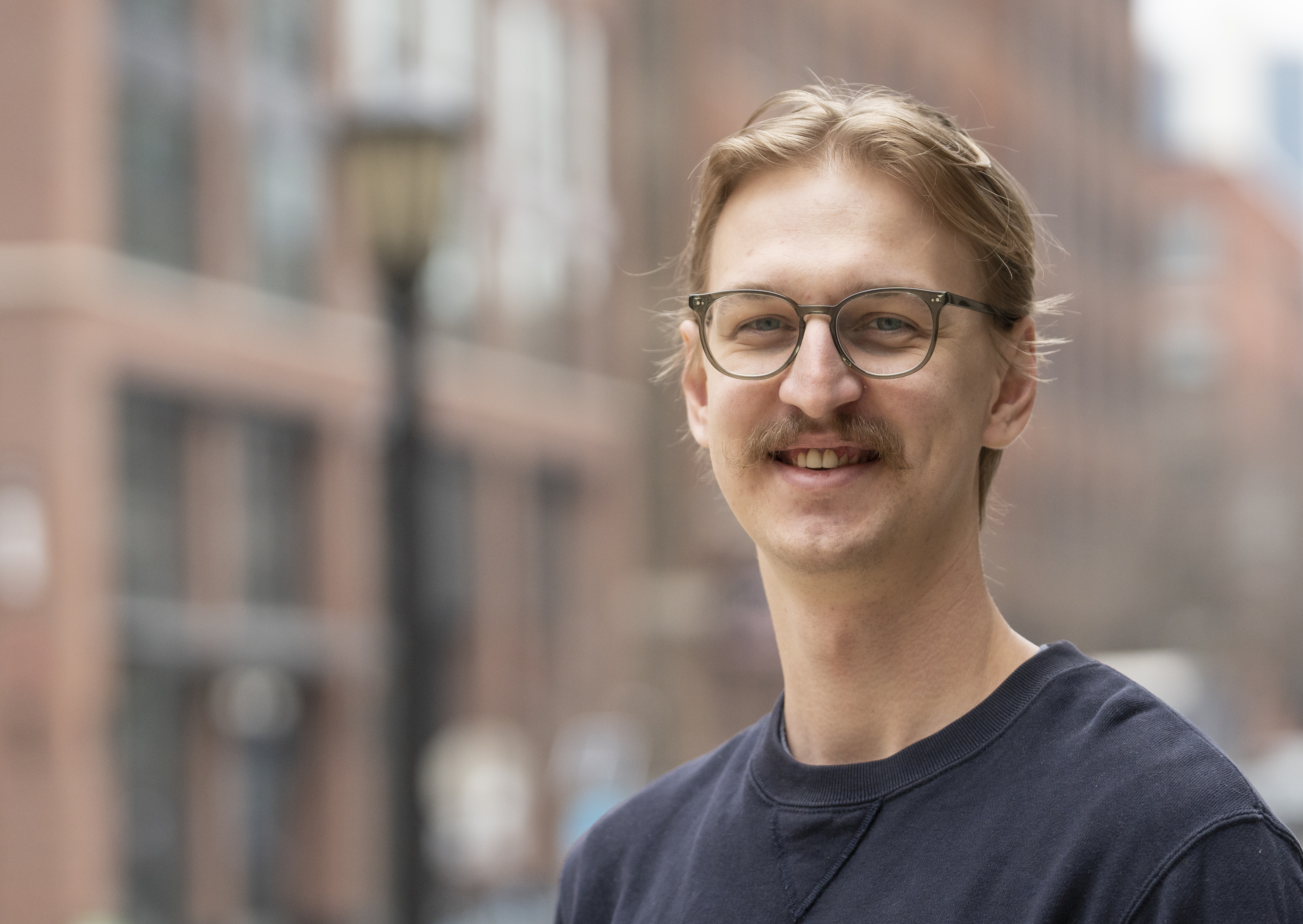 Sergey is a senior Jewish Studies major at Moody Bible Institute in Chicago. Photo by Lawrence Bohlin
By Jeff Smith
When Sergey and his mother moved from Ukraine to Israel, little did the then 5-year-old boy know that God had incredible plans for his life, sending him halfway across the world to train for full-time ministry as a missionary to his fellow Jews.
Today Sergey is a senior at Moody Bible Institute preparing to graduate in May. He'll then pursue a vocational career proclaiming the gospel as part of a ministry to the Jewish people.
"I want to work in Jewish ministry," Sergey says. "I was a student missionary with Chosen People Ministries—raising support, working with churches, and sharing the gospel with Jewish people in Rogers Park (Chicago). My passion is to lead Jewish people to our Messiah."
From Israel to New York to Chicago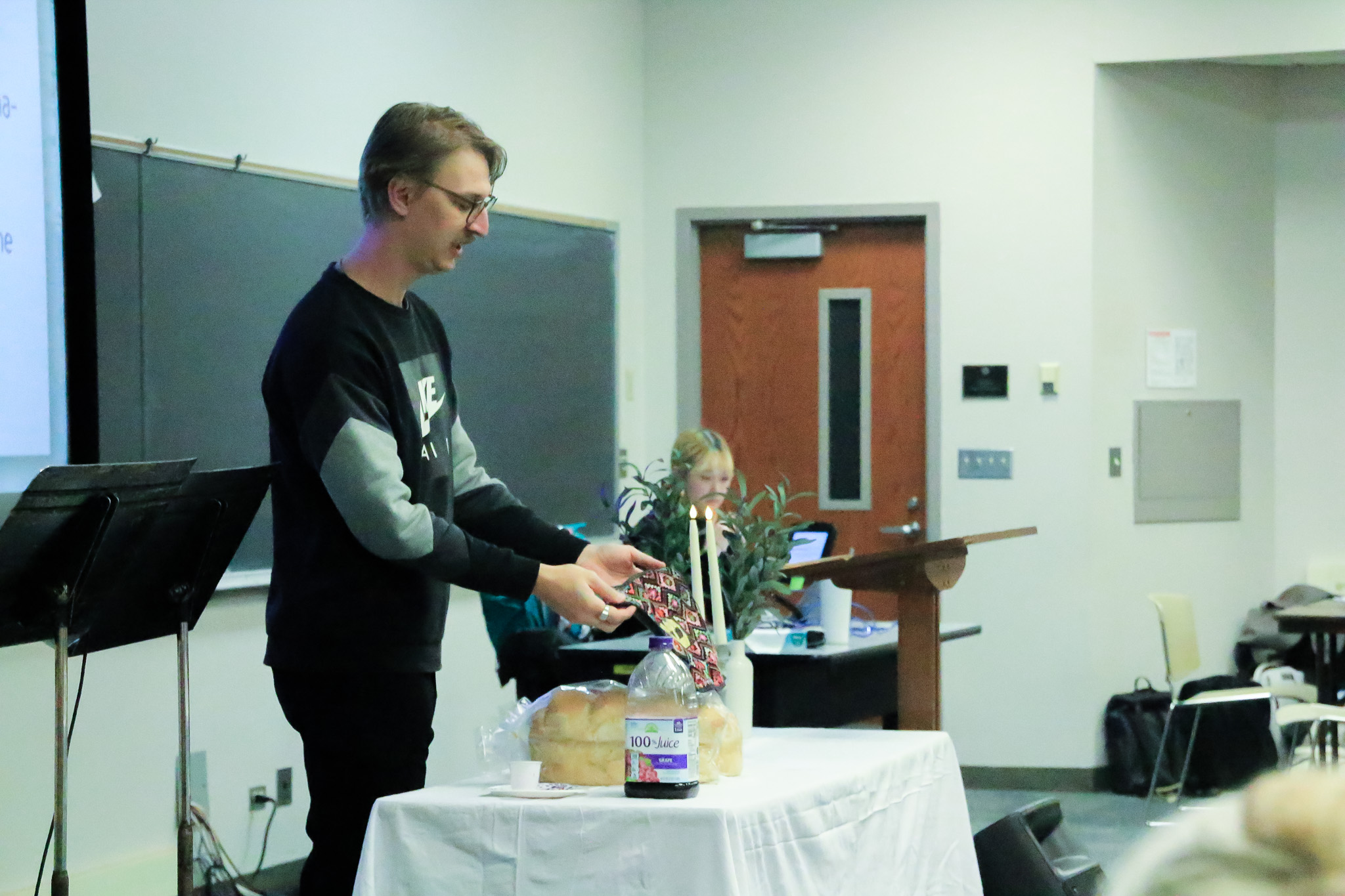 Sergey himself came to know Christ as his Savior shortly after transplanting from Ukraine to Israel. He and his mom were poor and struggling to find work when they were invited to a Christmas event at a church. At the service they heard the gospel for the first time, surrendered their lives to Jesus, and spent as much time as they could volunteering and worshiping in the church until Sergey heard about Moody from another church member.
Right: Sergey leads a Shabbat service during a campus meeting of Kesher, a student group at Moody dedicated to reconnecting the student body with the roots of their faith. Photo by Yein Jeon
After serving a required stint in the Israeli military, Sergey moved to New York City to get involved in evangelism to New York University students with Chosen People Ministries before applying and being accepted into Moody in 2019.
"Chosen People Ministries is close to Moody because of Dr. Michael Rydelnik, professor of Jewish Studies," Sergey says. "I knew the basics of the Bible but needed to go to school for formal education if I wanted to go into full-time ministry. I wanted to major in Jewish Studies, and Moody is the only accredited Jewish Studies program in the States."
Ministry experience through Kesher
Once enrolled, one of Sergey's first decisions as a freshman at Moody was to join Kesher. The student group is dedicated to reconnecting Moody's student body with the roots of their faith by introducing them to Jewish culture and history. As a Jew who is passionate about communicating the good news of Christ to other Jews, Sergey especially loved Kesher's commitment to educate and equip students for evangelism to Jewish people.
"Kesher in Hebrew means bond or connection. Our biggest desire is to introduce the Jewishness of the faith, the holidays and events like Passover and Festival of Lights and Hannukah," Sergey says. "We show students that there's a Jewish part of the Bible and to share the gospel with Jewish people. At Shabbats we invite students each week to learn more about the tradition and what Jewish people do around the house. We also want to explain anti-Semitism and how it's affecting the Jewish people."
While in the classroom Sergey has developed a solid biblical worldview and an extensive understanding of the Jewish faith and how to reach fellow Jews for Christ, in Kesher he has seized the opportunity to put those lessons into practice through real-life, practical ministry. As a senior he is president of Kesher and oversees a core leadership team that operates weekly meetings on campus and service projects off campus.
One of Kesher's most popular events was a recent presentation about the Israeli-Palestinian conflict that attracted 75 students and professors and helped enlighten them to the realities that the people of Israel face in a world where terrorism against Jews is sadly a regular occurrence. Another campus event was a discussion of anti-Semitism and how it has grown in the US and around the world.
"We're here to educate and talk to students," Sergey says. "After the Israel-Palestine conflict presentation, people came up to me afterwards and said they never knew that side of the story. We've had no bad responses about Kesher from students yet. The majority are supportive of us."
Prepared for God's leading
Sergey is grateful for the education and training he has received at Moody and excited to apply what he has learned in his classes and ministry experience after graduating.
"God has definitely grown my Christian faith and my Jewish faith through my work in Kesher and my studies at Moody," Sergey says. "I'm an Israeli, I talk about the land of Israel, anti-Semitism, and it has pushed me to understand more and learn more that God's heart is for the Jewish people to know the Messiah."