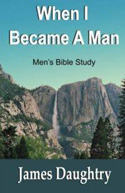 By James Daughtry '88 Abidan Publishers, 2012, ISBN 978-0985037109
James Daughtry '88 recently published When I Became a Man with Abidan Publishing. It is a men's Bible study that helps men explore God's Word on practical subjects that they can easily understand and apply.

ABOUT THE AUTHOR
James Daughtry '88 graduated from Moody Bible Institute. Since then, he has served as a missionary in the U.S. Virgin Islands, Africa and Mexico. In Mexico he earned a Master of Business Administration degree at a local university.