Alumni ID's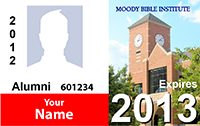 Great news! It is now possible to obtain a Moody Alumni ID.
Upon arriving at Moody's Chicago campus, you will be asked to provide identification. Previously, alumni were required to use a temporary ID provided by Facilities upon every visit. Now, a more permanent ID can be made with your name and picture for easier identification around campus!
To have your ID made, visit the Alumni Office located in the lobby of Smith Hall (next to the Museum). Once you fill out the verification form, the Alumni staff will direct you to the Facilities office where the ID will be made free of charge!
Please note:
The Facilities office is open Monday to Friday, 8–4 p.m.
This ID must be renewed annually through the Facilities office.
Replacements for lost ID's or renewals will cost $5.