2014 Faculty Citation Award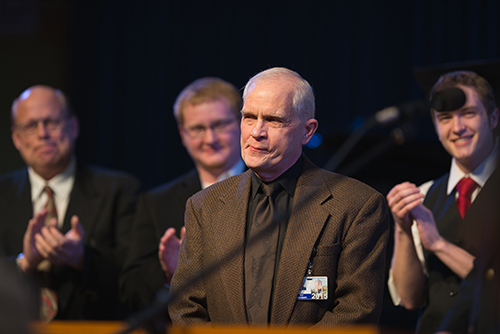 On February 4, 2014, professor and administrator of music in Moody Bible Institute's undergraduate school, Ronald Denison, received the 2014 Faculty Citation Award.
The award was presented to Denison by the Alumni Association during the Tuesday morning session of Moody's annual Founder's Week conference. Each year, the Alumni Association honors a faculty member for his or her distinguished service to students.
"For more than 25 years, Ron has played a significant role in the lives of students who are preparing to serve the Lord through music ministry," said Cynthia Uitermarkt, chair and professor of music in the undergraduate school at Moody. "Those who have sat under his teaching report that his influence has been one of the most formative factors in their entire Moody experience. The ability to make complex theoretical topics understandable, while communicating love for the Lord and love for people, makes Ron a most worthy recipient of this award."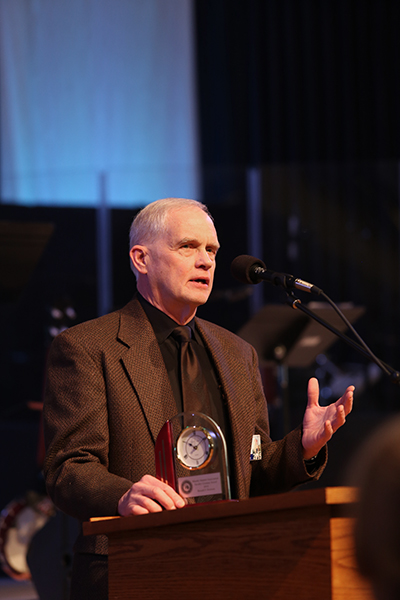 Denison first taught at Moody from 1971 to 1975. He returned in 1990 to serve as the assistant to the director of the Music Department, helping plan ensemble tours. Since 1994 his primary responsibility has been teaching second-year Music Theory, and for the past two decades he has also been the executive producer of Moody's annual Candlelight Carols.
He received a diploma from Moody in 1970, along with a B.Mus. and M.Mus. from the American Conservatory. In addition to teaching, he has also been involved in church ministry, serving as a minister of music, conductor, pianist and arranger. Currently, he is the pianist at his home church in Oak Lawn, Ill.
More Articles
Alumni Spotlight - Kyle '11 and Stephanie (Frusher '03) Tennant

View Article