The Best Day of Vinny's Life
In typical Malawian culture, one of the last places you would expect to find a person with a disability is on the soccer field. Usually those with disabilities are mocked ruthlessly and prohibited from participating in even the most common daily activities. But when the Spirit of God moves through a coach and team, the culture adapts to what God's Word teaches. Sports Friends Malawi places a high value on inclusion, so we invite the "crippled, lame, and blind" to our teams just as Jesus would have it.
 
Meet Vinny.  Vinny lives in Malawi and is a joyful, enthusiastic kid. He has cerebral palsy and struggles to walk at times, but you would never know how difficult his life is when he comes to soccer practice. His radiant personality adds so much to the sports ministry team that he is a part of in the city of Blantyre!
I'll never forget the first time Vinny came to practice.  After receiving an invitation from a few of the boys, he was ecstatic to join a team for the first time in his life.  That first day, he tried as hard as he could to kick the ball and run.  Sweat poured from his brow as the final whistle for practice sounded, and Vinny ran to our coaching staff saying, "One day, I will be the greatest player in Malawi!"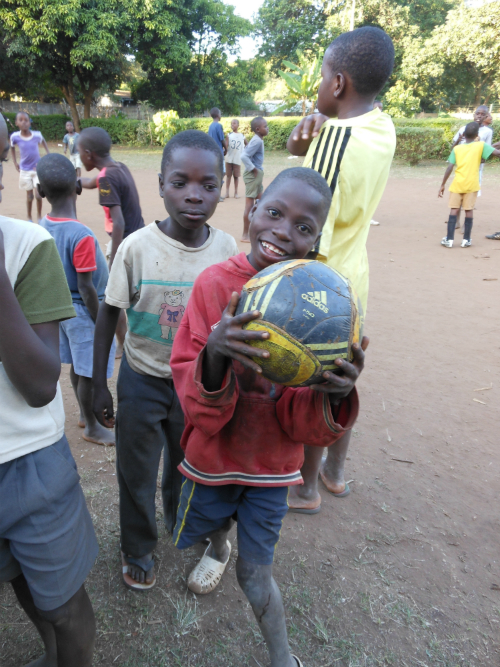 As time passed, Vinny continued to come to practice and learn about the greatness of Jesus and the story of redemption.  He listened well, and our coaching staff was always amazed at the way he answered questions with such wisdom and thoughtfulness.  Though it was difficult to understand Vinny at times due to his speech impediment, when we could hear what he was saying, it was often a great blessing.
Having Vinny as a part of our team has taught us so much about God and His Kingdom. I will never forget a time when our U-16 boys were competing in a match and 9-year-old Vinny wanted nothing more in the world than to join them. Our best player was named Jonto and, at the top of his lungs, Vinny shouted, "Jonto looks tired, let me in for Jonto!  I can do it.  I will score.  Come on coach?"  
 
Our coaching staff didn't consider substituting our best player for Vinny - we wanted to win, and Vinny often struggled just to get his foot on the ball.  But Jonto had a different perspective. 
 
Jonto heard Vinny chirping from the sidelines and saw it as a moment to bless Vinny and to show him how valuable he is in the eyes of his teammates and in the eyes of God.  In a moment, Jonto ran off the field and said, "Vinny!  You are in!  It's your turn to go for it!" 
 
Vinny's mouth literally hung open in disbelief.  Then, that disbelief turned into the most beautiful smile that you've ever seen.  Vinny dashed onto the field and hugged Jonto. He wrapped his legs around Jonto and asked, "Can you stay with me and help?" 
 
Jonto agreed, and the other team, impacted by Jonto's Kingdom decision, allowed the ball to get to Vinny's feet. He dribbled up the field towards the goal.  Everybody was chanting his name, "Vinny, Vinny, Vinny…."
 
Vinny's joy overflowed as he softly kicked the ball into the goal and dove in the dirt.  He ran over to the coaching staff and gave us the biggest hugs ever, shouting over and over again, "This is the best day of my life!"
 
This is why we do sports ministry. It's not about winning games; rather, it's about winning Vinnys into the Kingdom of God.  And in doing so, we are learning so much more about how God uses people like Vinny to broaden our view of the greatness of Christ and of how each person is "fearfully and wonderfully made."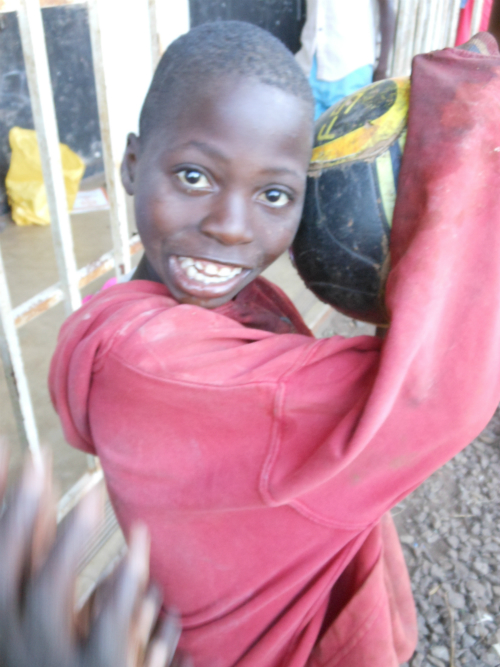 -Luke & Rebecca Voigt '09