Alumni Association Creating New Interactive Missionary Display
Alumni of the Moody Bible Institute have gone into the mission field for generations out of obedience to God and to help do their part in sharing the gospel of Jesus Christ to people groups all around the world.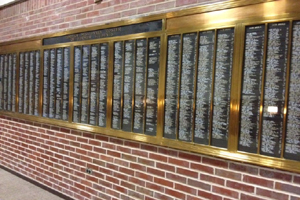 We in the Alumni Association want to honor those who have gone out from us to serve in national and international missions. We plan to do that by turning the list of missionaries which is currently displayed in the lobby of Torrey-Gray auditorium into an interactive digital display where individuals can easily search alumni, countries in which they serve, their agency affiliations, and length of service. This will be a very attractive display for our campus and will allow us to show how God is using the lives of our Alumni in building His Kingdom around the world.
This display is set to be unveiled at Founder's Week 2016 as part of the 100th anniversary celebration of the Moody Alumni Association.
We need your help!
Please provide us with the following information to be included on the updated display:
Name
Graduation Year
Organization/Agency
Location of Service
Dates of Service
Type of Ministry
(Please put your missionary display information in the 'Current Ministry Endeavors' box)
Please make sure you indicate in the box labeled Current Ministry Endeavors that you'd like to be included on the display board. We will contact you should we need any additional information.
Please let us know if you have served with multiple agencies and/or multiple locations. We require a minimum of 5 years service in missions to be eligible. If you have friends or colleagues who are Moody alums and serve in missions, please make sure they are not left out! Encourage them to send us their information!
Please feel free to contact the Alumni Association should you have any questions.
312-329-4412 or mbialum@Moody.edu