Finding Humility in Hollywood: How a Mennonite pastor's kid left Moody for movie star fame
Wearing a Barney Dinosaur costume at a birthday party, David A. R. White '89 sank to a low point in his acting career. He had been fired from a hit TV show by his boss, Burt Reynolds, and other acting opportunities had started to shrivel up. Why had God let him taste Hollywood success, only to let it slip away?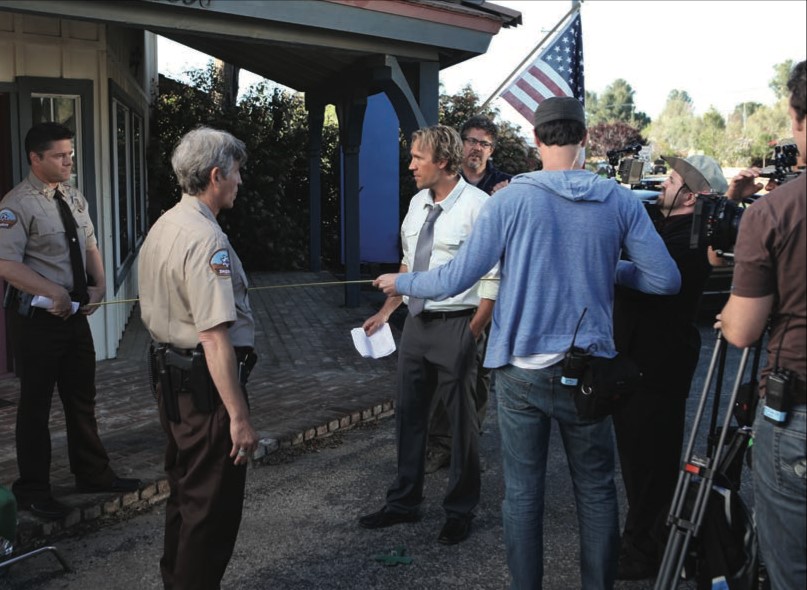 David A. R. White (center) during the filming of a scene from Revelation Road.
Growing up as the youngest son of Gene White, a conservative Mennonite pastor in Kansas, David didn't watch much television and had seen only 
one movie in the theater in 18 years. Yet he'd dreamed of going into the entertainment industry since his youth.
That dream didn't sit well with his father, who wanted each of his children to attend Moody Bible Institute for
at least one year. "It's really the only school our family holds dear to our hearts," David explains. After all, his parents had met at Moody: His mom, Marceil Williams '56, was a student when his dad worked for Moody before becoming a pastor. David's older brother Tim White '82, sister-in- law Naoko Kimura '89, older sister Michelle White '87, and brother-in- law Abel Peña '88, graduated from Moody and went into ministry. "My entire family found their significant others there," David says. "They thought I would do the same thing."
His father hoped David would follow in his footsteps to become
an evangelist. And David did go to Moody, studying the Bible and playing trumpet in the Symphonic Band.
"I loved Moody, loved my classes, it was a great experience, but I couldn't shake the dream of going into the entertainment industry, he says."
With trepidation, he called his father one day and said that at the end of his first year at Moody, he wanted to move to Hollywood to be an actor.
After a pause, his father replied, "As long as you serve the Lord in whatever you do, we support you."
David was 19 when he moved to California. Six months later, he landed a job working as an extra on Evening Shade, a sitcom filled with Emmy winners and Hollywood icons like
Burt Reynolds. He continued to find success, scoring more acting jobs and guest-star appearances on TV shows like Melrose Place. He also joined a church in Los Angeles and got his first starring role in a Christian film called Second Glance. His dream was becoming a reality.
Living a Nightmare
But Hollywood success seemed short-lived. At the end of season three, Burt Reynolds chose him to parody his character in an episode. David committed the cardinal sin: he amused the audience but ended up offending the star. Burt Reynolds cut him from the show but never explained why. Soon other acting jobs dried up.
"My career turned sour, I couldn't get a job, and my life felt like it came to a screeching halt," he says.
His desire had been to make money as a famous celebrity, while still retaining his Christian beliefs and standards. How could God allow him to succeed and then fail?

David A. R. White discusses the film God's Not Dead 2 in a CBN interview.
Disappointed and frustrated, he slowly stopped going to church, let his Bible gather dust, and started experimenting with things he would not have done a few years earlier, such as dating non-Christians and drinking to excess. He wanted to marry a Broadway dancer but his struggling work life didn't impress her parents. In Hollywood, where he says "being a Christian isn't popular," he found himself wondering, Do I believe what I believe just because I grew up in it?
He was broke and broken-hearted. Maybe it was time to give up his movie career. Ironically, God would use a movie to draw David back to Himself.
Giving God Glory
In his late twenties, David got a desk job at a casting company that led to a successful faith-based movie, even while he was still living an un-Christian life. Then he was cast in the movie, Mercy Streets, playing twins who were separated at birth. One became a con artist and the other a preacher. "At the end, each of the twins had to decide—and I had to decide as well. Life imitating art," David recalls. "Was I going to be a con man or was I going to be a preacher? Was I truly going to be a believer? Because if I was, then
I needed to lay down the stuff that wasn't of the Lord and go back to my first roots and really love Jesus Christ."
While the movie didn't perform the way he wanted it to, it led David to stop focusing on himself and re-devote his life to the Lord. Instead of chasing a self-serving dream of success in Hollywood, he decided to let the Lord redirect his dream to impact others and bring glory to God.
"When things are really hard and God challenges us through different struggles in our life, those are the times where He ultimately puts us through the fire, refining us for what He wants us to be," David says.
In 1998 he formed a Bible study group with other broken Hollywood actors in an effort to be light in the darkness. "It's amazing to see what God will do with a little when you give Him what you have," he says. In 2002 he met his wife at a Los Angeles church. After producing a successful Christian movie in 2004, David partnered with two other people to form Pure Flix, an independent production and distribution company whose mission is to influence the global culture for Christ through media. By the end of 2012, Pure Flix had produced more than 15 faith-based films and distributed another 50 worldwide.
In 2014 they produced God's Not Dead, but no studios would take it on for distribution. While Pure Flix had successfully released movies to DVD and television, their dream was to release God's Not Dead in theaters. "This was a dream that was bigger than us, a massive risk," David says. The risk paid off. With a $2 million budget, the movie grossed more than $60 million at domestic box offices.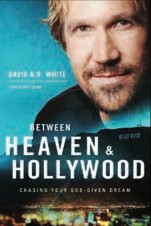 Altogether, David has starred in more than 25 films, produced more than 40 films, and recently launched Pureflix.com to offer a Christian alternative to Hollywood fare. Last fall he wrote Between Heaven and Hollywood: Chasing Your God-Given Dreams (Zondervan), which shares anecdotes from his acting pursuits and how God pursued him.
Living in Hollywood with his wife, Andrea, and three children, David says success has not gone to his head. "The more successful I become, the more humbling it is, the more I really, really need the Lord's leading in so many different ways," he says. "I start every day on my knees in prayer. It's a humbling way to kick off the day and a reminder that I live to serve God. This act of humility gives me courage and strength."