D. L. Moody's Chicago Food Tour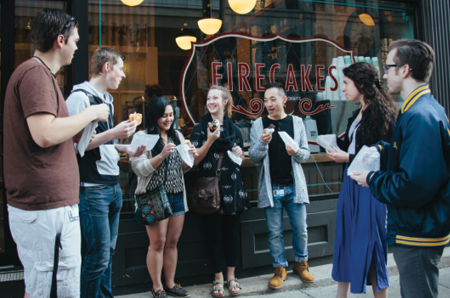 Moody students enjoy Firecakes Donuts on the original site of D. L. Moody's Sunday School.
Dwight L. Moody, famous for his appetite, would be surprised by a recent development. For reasons that no one can fully explain, most of his Chicago landmarks have been turned into restaurants and coffee shops, making it possible to explore a bit of Moody history and enjoy great food, all at once.
All of D. L. Moody's landmarks were wiped out by the 1871 Chicago Fire, but with some diligent searching, we've been able to recover their original locations. On our brief tour we'll tell you about the original buildings, give the current street address, and offer a culinary guide.
North Market Hall (about 68 W. Hubbard St.). In 1858 D. L. Moody rented the biggest meeting room in the city, a huge building that stretched for a full block, from Clark to Dearborn. Stunts like this earned him the nickname "Crazy Moody," but then he filled the building with 1,000 at-risk children and captured the attention of Chicago's business leaders. Moody called it a Sunday School, a place to learn basic literacy and basic Bible truths.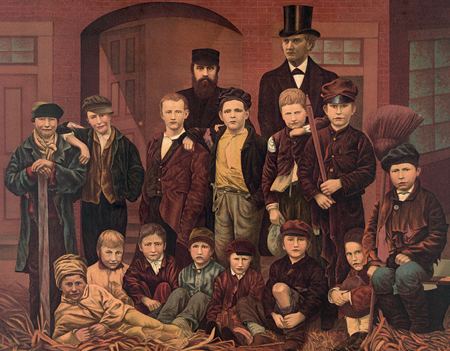 D. L. Moody and street urchins at North Market Hall, 1860.
In 1860 Abraham Lincoln stopped by and told the gathered street urchins that "one of you may also become president." After the Chicago Fire, the hall was replaced by the Cook County Criminal Court Building, now known as Courthouse Place. If Moody were around today, he'd order up a round of donuts at Firecakes, best in the city.
Farwell Hall (about 135 W. Madison St.). On January 22, 1886, Moody addressed a noontime group of business leaders, famously calling for a school to train 'gap-men' who would stand between the laity and ministers. The building is long gone, replaced by what is now the Residence Inn Marriot. Today you can order a burger at the Roanoke restaurant (but get ready to pay $15 bucks). Oh, and for the Chicago newbies, do not say Madison Avenue. That's New York.
Grand Pacific Hotel (near 231 S. LaSalle St.). Not only the site of Moody's organizing meeting on February 2, 1887, where business leaders gathered to adopt a constitution for the Chicago Evangelization Society—the Grand Pacific also became host to many civic events and political conventions. In 1924 the hotel was replaced by the Central Standard Building, where you can grab a Starbucks coffee today.
It's no coincidence that these D. L. Moody locations became food establishments—public dining has always played an important role in Chicago's social and cultural history. By 1900 the area around Madison and Clark became known as "toothpick alley." But wait, for those who are skeptical about all of these connections, there's even more . . .
Illinois Street Church (about 161 W. Illinois St.). Moody built his first church in 1864, posting his famous sign at the front entrance: "Ever Welcome to this House of God Are Strangers and the Poor." When the 1871 fire started, Moody and Ira D. Sankey had just finished a prayer service. They escaped out the back stariway—roughly the location of Lou Malnati's Pizza (439 N. Wells St.).
D. L. Moody Home (about 630 N. State St.). Moody's friends provided him with a fully furnished home in 1868, where the family lived until the house was destroyed in the fire. Moody moved his family to Northfield, Massachusetts, and never lived in Chicago again. But you can still have a fine dinner at Quartino Ristorante, known for its risotto and small-plates menu.
North Side Tabernacle (636 N. Wells St.). Just 10 weeks after losing everything in the fire, Moody built a temporary auditorium, which he used as a distribution center for supplies and relief work. Ira D. Sankey had a one-room apartment in the back. The site later became famous as Ed Debevic's tourist-trap diner, recently replaced by a sleek 22-story apartment tower. So stop by Peet's Coffee, walk to the back, and sing a hymn. Loudly. You're standing right where Sankey compiled his first hymnal.
Joe's Coffee Shop (821 N. Wells St.). Your D. L Moody Food Tour will end, naturally, at Moody's own campus coffee shop, located on the second floor of the Alumni Student Center. After you order, look out the picture window overlooking the plaza, site of Moody's original 153 Building, where D. L. Moody kept an office known as Room 10.
Bonus Tour! You can find the site of the C. E. Wiswall & Co. Boot and Shoe House (roughly 651 W. Lake St.), where D. L. Moody first worked as a shoe salesman after moving to Chicago in 1856. Like the other D. L. Moody landmarks, the original building was destroyed in the Chicago Fire. Today you can visit Open Books, a great used bookstore that promotes literacy in Chicago schools.
And the next time you go to a Chicago Bulls game, you can park at Emma Dryer's place, if you know where to look. Her first residence (and early location of the famed May Institutes) was about 1713 Warren Ave., which today is a parking lot under the CTA tracks, about one block northeast of the United Center. Pack your own tailgate picnic and look for the "Peoples Stadium Parking" sign—you're there.
Stalking D. L. Moody: A Bibliography of Chicago Sites
D. L. Moody lived in Chicago from 1856 to 1871. His Chicago years are well documented in dozens of published biographies, as well as the treasure trove of primary sources in the Crowell Library Archives of Moody Bible Institute. But the exact location of Moody landmarks has remained a mystery until now.
Fortunately for today's urban explorer, a few researchers have obsessively documented the location of Moody buildings. Noteworthy site detectives include Robert Bruce Huber in "Dwight L. Moody, Salesman of Salvation: A Case Study in Audience Psychology," (PhD dissertation, University of Wisconsin–Madison, 1945); and August J. Fry in D. L. Moody, the Chicago Years, 1856–1871 (Free University Press, 1984). For whatever reason, both authors had an unusual fascination with exact addresses. Also see the early resources listed in Wilbur M. Smith, An Annotated Bibliography of D. L. Moody (Chicago: Moody Press, 1948). Other information may be gleaned from city directories and map collections at the Chicago History Museum and the Newberry Library.
Potential urban explorers should exercise care when looking up old addresses, a confusing task that requires a bit of detective work. Chicago residential streets were re-numbered in 1909 and the Loop streets were re-numbered in 1911, obliterating the original addresses of Moody's era. But yes, someone wrote all of the changes down. See Plan of Re-Numbering City of Chicago (1909 and 1911).
For a transcript of Moody's Farwell Hall speech on January 22, 1886, see Record of Christian Work (February, 1886), 5–6; also see "Brought Forth Fruit," Chicago Tribune (January 23, 1886), 3. For the account of Abraham Lincoln visiting Moody's Sunday School, see John V. Farwell, Early Recollections of Dwight L. Moody (Chicago: Winona Publishing, 1907), 98. For more information about the C. E. Wiswall & Co. Shoe and Boot House, see back issues of the Shoe and Leather Reporter (yes, that was really a magazine, back in the day).
During the 15 years he lived in Chicago, D. L. Moody developed ideas about urban outreach that would become known all over the world. "People ask me why I don't come back here and stay," Moody explained after leaving. "Well, it seems I can't. I have a roving commission which takes me all over the world."
Kevin Mungons is editorial manager for Moody Bible Institute's Marketing Communications department