Dr. Gene Getz
The Measure of a Spiritual Leader
For a man in his mid-80s, Dr. Gene Getz '52 is still hard at work—ministering around the world and leading tour groups to Israel with his wife, Elaine. "I'm an old MBI graduate, and thanks to God's grace and momma's genes, I'm still serving Jesus," he says.
As the author of more than 60 books, Gene is most excited about the new edition of his multimedia Life Essentials Study Bible (B&H). In addition to 1,500 "principles to live by" and commentary notes, the Bible includes QR codes enabling readers to access nearly 300 hours of Gene teaching each principle.
All of the principles are now being translated into Spanish—the second most spoken language in the world—and the videos are being lip synced. "It's amazing watching myself teach the Bible in Spanish," he says of the project that will take two years to complete.
Gene is passionate about getting the Bible into the hands of pastors who have had little or no formal training. In Uganda, for example, a Life Essentials Training Center is being built, where pastors can learn how to use the study Bible for personal study and message preparation.
Gene is also involved in prison ministry. In partnership with Awana Lifeline, his Renewal Ministry presents copies of the Bible as a graduation gift to prisoners who complete a year-long curriculum. Gene's classic book The Measure of a Man is used in the curriculum.
"It's a thrill to give these inmates a copy of the Bible and to train them in how to use it," he says. Gene has done so a number of times at Angola Prison. For every Bible purchased through Renewal Ministries, one is given away to someone who can't afford it.
Gene's own faith journey was influenced by his father, who was influenced by the teaching of Dr. Harry Ironside on Moody Radio in the mid-1930s. "Dad listened on an old battery-operated radio," Gene says. "That's when he began to understand grace, which later impacted me in understanding the gospel!"
Gene started listening to The Aunt Theresa Bible Hour, a Sunday afternoon children's program on WMBI. After Gene became a believer at age 16, he listened to Moody Radio's Meet the Students. "The testimonies I heard motivated me to enroll at Moody," he says.
It was there that Professor Harold Garner, a professor who directed Moody's Christian Education department in the 1950s, took an interest in Gene and encouraged him. "He believed in me when I didn't believe in myself," says Gene. "That changed my life!"
Gene took opportunities to minister to others as a student. "One of my greatest experiences was to be a part of the Good News Quartet, a men's quartet that traveled and represented Moody's ministry in churches," he says.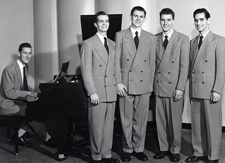 The Good News Quartet: (l to r) Ralph
Colburn, Bud Paxton,Ed Meyer,
Gene Getz, Stan Gudeman
Dr. Garner also encouraged Gene to go on for more education—which he did, earning a master's degree from Wheaton Graduate School and a PhD from New York University. While studying at Wheaton, Dr. Garner asked Gene to teach a media course in Moody's Evening School. "I couldn't find a textbook for the course, so my master's thesis became that text!" he says. Moody Publishers published it: Audiovisual Media in Christian Education, the beginning of Gene's writing career.
Gene joined the Moody faculty a year later in 1956, becoming the youngest person to join full time. "It's hard to believe I was only a year or two ahead of my students," says Gene, who was 23. "It became the greatest and most humbling learning experience of my life!"
Soon after Gene started teaching, Dr. Garner and his wife set Gene up on a date with a student named Elaine Holmquist '56. Gene recalls, "We met off campus in Wheaton and didn't violate any rules. Most people didn't know we were even dating."
So when Elaine walked in to Houghton Hall's 10th floor wearing an engagement ring, the other students thought she had borrowed the ring and was teasing them. The news spread like wildfire, and when Gene walked into his classes the next morning, everyone congratulated him. Gene and Elaine are celebrating 62 years of marriage this year.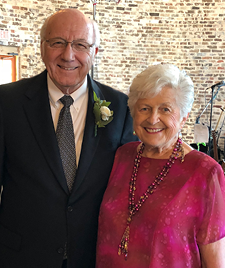 Gene and Elaine Getz
In 1962 Gene became the director of Moody's Evening School and had a studio built in Fitzwater Hall. Moody Radio aired a program called Class in Session—an innovative live broadcast from an Evening School classroom. "I actually took calls from listeners and relayed them to the professor while he was teaching," Gene says.
In 1968 he completed his doctoral dissertation at New York University, later published as MBI: The Story of Moody Bible Institute. His research highlighted Moody's role as "the mother of the Bible institute movement" and detailed many innovations. For example, D. L. Moody himself was publishing paperback books 30 years before the secular world. Also, the first Evening School classes were in 1903, just about the same time the University of Chicago started an evening school, he says. Many other ministries also grew out of Moody's ministry, such as the Evangelical Teacher Training Association and Scripture Press.
Gene was invited to join the faculty at Dallas Theological Seminary in 1968. There his students challenged him to take a fresh look at what God intended churches to be. As he explored the topic in a course, Gene was deeply impacted by Dr. Francis Schaffer's teachings, which led to his landmark book Sharpening the Focus of the Church (Moody Publishers). He outlined from Scripture principles that should never change, while also demonstrating the freedom believers have to develop creative and culturally relevant forms and structures.
Encouraged by his students, Gene launched Fellowship Bible Church in 1972. That church planted six more churches in the Dallas area within five years. Oak Cliff Bible Fellowship was one of them, started by Tony Evans and his wife. "We were especially excited to support Tony Evans as our first full-time church-planting missionary pastor," Gene says. "It was an amazing period in terms of church growth."
Then Gene made a life-changing decision. After 20 years as a professor at Moody and Dallas, he became a full-time church planting pastor. Today there are hundreds of Fellowship Bible Churches in other locations. After Gene passed his senior pastor leadership baton at Fellowship Bible Church North to a successor in 2004, he received the surprise invitation to use the Holman Christian Standard Bible (now the Christian Standard Bible) to do the Life Essentials Study Bible. That has become the heart of Gene's Renewal Ministries.
In years past Gene also taught modules at Moody Theological Seminary, including a course on biblical principles of church renewal. He wrote breakthrough books for church leaders like The Measure of a Healthy Church and Elders and Leaders: God's Plan for Leading the Church (both Moody Publishers). He has also served on Moody's Alumni Board and as a Moody trustee. In 1985 Gene was chosen as Moody's Alumnus of the Year, and in 2012 Moody awarded him an honorary doctorate.
Incidentally, his granddaughter, Stephanie, graduated from Moody in 2015, the same year Gene gave the Commencement address. He preached on three words from 2 Timothy 2:8 that were shared at his own ordination: "Remember Jesus Christ."
Gene continues to take those words seriously. "To me, I don't see retirement in the Bible," he says, "and I want to serve Jesus until He takes me home."
Linda Piepenbrink is managing editor of Moody Alumni News.