Naomi Senn: 'Okay, Lord, You've got to show us.'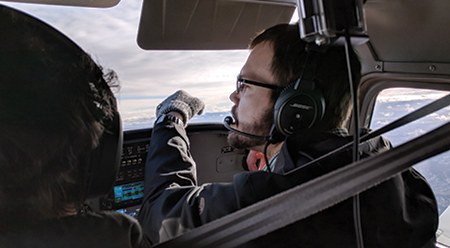 Diego Senn
On Friday morning of July 13, 2018, Diego Senn '10 sent a text to his wife, Naomi (Williams) Senn '11, telling her he loved her and asking, "How are my girls?" He had left early for work, allowing his pregnant wife to sleep in. The night before, they had had a gender-reveal party, telling their six-year-old boy, Lionel, and four-year-old twin girl and boy, Ellanie and Malachi, that they were having a little girl in December. Diego "was so excited for another little girl to spoil," says Naomi.
Around lunchtime Friday, she texted Diego and didn't hear back. "I wasn't worried at all because often I would text him and he'd be up in a flight, so I would just wait," she says.
When she got a call from Moody Aviation saying that a plane matching his plane's description was overdue, her heart beat a little faster.
Maybe they would need to postpone their dinner plans with aviation students that evening, but it didn't cross her mind that something very serious might have happened. "He was an excellent pilot. Everybody there knew that."
Naomi sent a text to the church small group she and Diego led. "Hey, pray for Diego. The plane is overdue, and we're not sure what's going on." Then she sat down with her kids and prayed with them that God would give their daddy strength and wisdom. "Will Daddy be okay?" they asked.
"I think he will," she said. In her mind, it was probably just a close call.
Then a friend of Diego's from Moody Aviation came to the house and asked Naomi to sit down. He looked a little shaken up. "It's more serious than we thought," she recalls him saying. "Right now there have been two confirmed fatalities."
Naomi was stunned. She knew that three men were on the airplane—Diego and two Moody Aviation students on their first training flight—and at that point it didn't matter which of the three had died. "I knew this was a life-changer forever," she says. I wasn't prepared for the word fatality—not at all—and then of course my kids panicked because I'm crying."
Twenty minutes later they got a call confirming a third fatality. "I can't even describe the moment. Honestly, it was world shaking."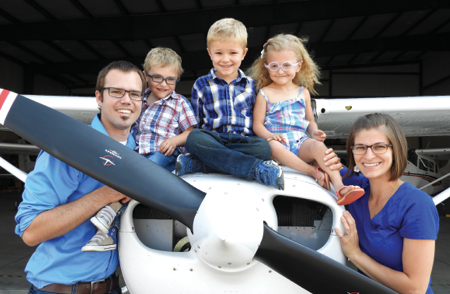 Diego and Naomi Senn with sons, Malachi and Lionel, and daughter, Ellanie.
"It was more than parents losing a son, but also wives losing a husband and children losing a father," she says. "It didn't make much sense to me; of all the times, why now, Lord?"
"But obviously God knows and He can handle our questions, and we can ask why, and we don't have to know the answer."
Her parents flew to Spokane from Michigan that same day, showing up at the door at eleven o'clock that night and staying for the memorial services (first Diego's and then Austen's). "The Moody Aviation community has been amazing," Naomi says. Besides bringing meals, they've made sure the lawn is mowed and the van is in good working order. She has received a steady stream of cards from alumni who remembered Diego when he was a student at Moody Bible Institute in Chicago. "It's been nice to actually hear some of those fun memories that I didn't even know about him."
Naomi and Diego met in the Student Dining Room at Moody and belonged to brother-sister floors. They quickly discovered they had a lot in common. He grew up in the Amazon region of Brazil where his parents translated the New Testament into a tribal language. In 2007 Naomi had gone on a mission trip with New Tribes Bible Institute, just up river from the village where Diego's parents were missionaries. Naomi's dad was a pastor at a Michigan church, so Naomi and her six siblings grew up meeting a lot of missionaries and hearing their stories. "It was very inspiring to grow up that way, seeing the world a little bit through their eyes," she says.
Committing her life to missions in high school, Naomi went to Moody and learned to teach from a Christian perspective—"more than just adding a Bible verse to a school subject," she says. "I really love that about Moody." She was looking into teaching at a missionary boarding school very similar to the one Diego studied at from age 12 through high school. For Diego, the boarding school had been a plane ride away from the village. To go anywhere, he had to catch a ride in a little Cessna. "That was what really inspired him to go back and be a missionary pilot," says Naomi, who married Diego in 2010.
They joined Proclaim Aviation and had their sights set on returning to South America as missionaries where Diego already knew the language and culture. He would be able to hit the ground running while Naomi learned the language. "But as a pilot family, you have to really be willing to go wherever the need is. So that's what we had prayed about."
When their "miracle twins" were born 16 weeks early, they had a lot of health issues, including feeding tubes and oxygen—health needs that couldn't be taken care of on a mission field. That's when Moody Aviation approached Diego about becoming a flight instructor.
"And it was a really great fit," Naomi says. "We realized that this is where God was leading us to stay for the next years."
She recalls the fun they had as a family, like reading together at night, hosting friends at their home, and doing outdoor activities like hiking and camping. Since the accident, the children, who used to sleep through the night, wake up a lot with nightmares and anxiety. The hole her husband left in their lives is huge, she says.
"Diego was an amazing dad—a really, really amazing dad. After long hours all day, he would come home and play with the kids and help me put them to bed and take over bath time and read them books. I knew he was a great dad and a great husband. I always told him, 'You're the best,' but now that he's gone the hole is so huge and I am extremely exhausted. It is very overwhelming trying to think about raising four kids by myself."
Naomi does her best to calm their fears, and when she's lying awake after being up with one of them, she comforts herself by praying for her children and for the two other widows and their children. "Just being able to lay it all before the Lord, and being able to say, 'Okay, Lord, this is where you brought us. I know you can bring us through it. You've got to show us.'"
After the accident, Naomi found Diego's Bible open with a bookmark in Ecclesiastes 3, which he had read that morning. "I just thought, what a crazy thing, that he was reading about there being a time to live and a time to die and he had no idea that his time was coming just in the next few hours," she says. "It's only what's done for eternity that's going to matter."
"He loved the Lord, and that's really the best part—that he loved the Lord. And even though his life was just a vapor, we know where he is, and we know that his life mattered, a lot."
Naomi is happy to continue to work at Moody through her missions organization, Proclaim Aviation. "My goal is to work with the wives and families of the students, just to be an encouragement to them through the program.
"Even if the student wife's role is being the ultimate encourager and prayer warrior for her husband . . . and being a good mom for the kids, if that's your role, that's an amazing role, and a role God can use."
She knows God called her and Diego as a couple to missions. "I don't have to be outside the ministry finding something else to do. There's such a huge ministry here for even the staff wives, and I would love to help people see how God can use that."
Gifts for the Senn family
Online giving at GoFundMe, or checks may be made out to Naomi Senn and mailed to:
Naomi Senn
P.O. Box 9855
Spokane, WA 99209
Read the other two stories in this series: