Rebecca Trouten: 'Telling God how much it hurts'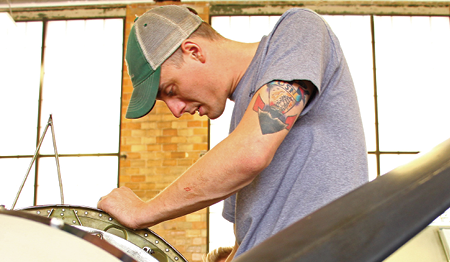 Andrew Trouten
Surrounded by Montana hills, Rebecca Trouten embraced her husband, Andrew, as he headed back to Spokane to begin his fourth year of missionary flight training at Moody Aviation. She planned to join him in a month, after working on her family's ranch in South Dakota and attending the Bible camp where she and Andrew first met as children.
Little did they know that just a week later, he would die in a plane accident, and she and their 15-month-old daughter, Rilee, wouldn't see him again this side of Glory.
In the midst of grief, one bright spot was seeing 65 students, faculty, and spouses arrive from Moody Aviation to attend Andrew's memorial service in South Dakota, after they'd traveled 13 hours by bus or car. "It was so special," Rebecca says. "Obviously it was the hardest day ever, but it was amazing to have that much support tangibly there."
The outpouring of support for Rebecca and Rilee continues. "I've gotten cards and checks from people across the US, and I have no idea who they are," she says. "I assume some of them are Moody alumni, but they don't always say."
Growing up on ranches in Montana and South Dakota, Andrew and Rebecca saw each other once a year at the Bible camp both of their families attended. Andrew was six years older and joined the Navy, straying from his childhood faith. But then one of his younger brothers was tragically killed in a car accident.
"It was a really big deal for me when Andrew's brother was killed," Rebecca says. On the day she heard the news, she remembers thinking, I know Andrew is out there and I'm pretty sure he's not following God. If only Andrew could come to truly know Christ because of this.
And he did, at age 25, followed by a year where he sensed God calling him into missionary aviation. His ship had done Navy relief work in Haiti after the 2010 earthquake, which touched him in a special way, says Rebecca, who also had taken a mission trip to the Dominican Republic in 2013. They started dating a year later, in June 2014. "We were looking at being missionaries to Haiti once he finished school."
The Troutens moved to Spokane a month after getting married in July 2015, so Andrew could start the five-year program at Moody Aviation. Rebecca had a Christian ministry degree and worked full time until their daughter was born in April 2017. Rebecca often brought Rilee by the hangar to visit with Andrew and got to know the classmates and instructors she now calls "my Moody family."
"It's such a rigorous program that those are the only people you hang out with, at least for us. Having friends over often consisted of studying together."
Invariably, Rebecca and Andrew would invite students to stay over for supper. Rebecca remembers one student who was studying at their place and assured them he'd already eaten. When they asked him what he ate, he said, "An apple." They rolled their eyes and said he was going to eat a real meal.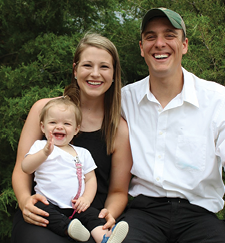 Rebecca and Andrew Trouten,
and daughter, Rilee
Rebecca misses those days. A certified flight mechanic, Andrew was on his first day of flight training when the accident happened.
Rebecca takes comfort in knowing that he was doing what God had called him to. "He really felt like God wanted him in mission aviation for a reason."
Still, adjusting to life without Andrew has been hard. "Definitely through all of this, God has been my rock, my Redeemer," she says. "But sometimes I find myself grieving so much that I can't just go read the Bible for encouragement. It's not that simple. Instead, I find myself just crying out to God because I feel so broken. It's just a process of telling God how much this hurts and being okay with not being okay. It's about getting real with Him.
"In those moments when this grief is just so raw and you can't do anything about it, I just hold onto the fact that I know I will get through this—through God's help and through the support of people. Sometimes I think this life is going to feel so long and so hard without Andrew, but it's not going to be able to compare to life in eternity."
Eventually Rebecca plans to take a trip to Spokane "to kind of say goodbye to the life that we had there," she says. She'll visit her community church where she sang and Andrew played guitar to lead worship. And when she feels ready, she'll go to the site of the plane crash.
As for the accident, she offers this word of hope: "God always had it under control. This didn't come as a surprise to Him, and He will not fail us, and He will not fail you, reader, in your circumstance."
Gifts for the Trouten family
Online giving at GoFundMe, or checks may be made out to Rebecca Trouten Benefit Fund and mailed to:
Pioneer Bank & Trust
Rebecca Trouten Benefit Fund
PO Box 307
Buffalo, SD 57730
Read all three stories in this series: