Alumni Magazine Makeover
A sneak preview of the Fall 2019 issue
We hope you say "Wow!" when you read the Fall 2019 issue of Moody Alumni & Friends.
Yes, regular readers will notice that we've added & Friends to the title. We're discovering that everyone loves our articles and news—not just alumni. You'll see all of the regular features you've come to expect, plus several new story approaches: Dr. Jobe's Bold Steps column, a new Why I Give to Moody feature, a Back to School series about recent seminary graduates, and a Flash Back photo from the archives.
The fresh page design and larger size gives us more space to tell alumni stories and Moody news. You'll notice bigger photos, a clean and modern aesthetic, and reader-friendly fonts. Our designer also uses phrases like "clear navigational hierarchy" and "multiple entry points for the reader" (which sounds wonky, but we love how the magazine feels when you read it all the way through).
Behind the scenes, Doug Fleener led the design effort. He's previously led the design makeovers for Leadership Journal, Campus Life, and Focus on the Family's Citizen. Our managing editor, Linda Piepenbrink, continues to develop great story ideas. She was previously an editor for Today's Christian Woman, Virtue, Clubhouse, and Clubhouse Jr.
One bit of news for our international readers. We've been mailing the magazine to more than 1,000 international addresses, which has become increasingly expensive (more than three dollars per issue) and slow (arriving a full month after the U.S. subscribers). We're trying something new with the next issue. We'll email our international readers a PDF of the full magazine as soon as it is finished, rather than a print copy. You'll actually receive this a few weeks ahead of the U.S. readers. If you need to update your email address, please use this form.
Finally, you may have noticed that we're upgrading our website so that all the feature stories in the print edition are now available online. Whether you read in print, online, or both, you'll appreciate all the ways God is using Moody alumni around the world.
We're always interested in hearing from you—send us a note at mbialum@moody.edu.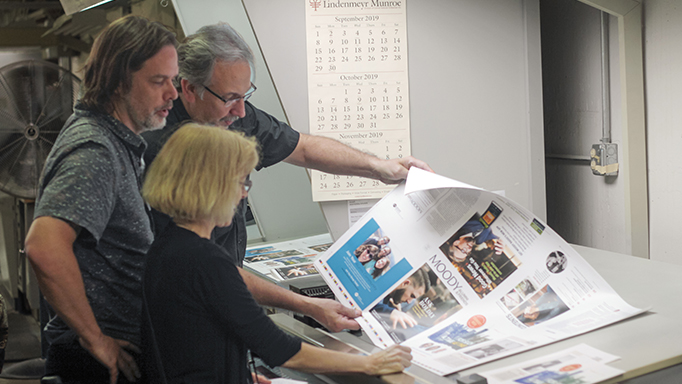 Doug Fleener (graphic designer) and Linda Piepenbrink (managing editor) at Darwill Printing for the press check.
....and check out these sample pages from the new design.