THE MOODY ARCHERS STORY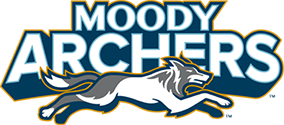 Moody athletes have long been known as Archers in reference to the iconic archway that stands as the gate into Moody Bible Institute. The arch is not only a gateway into the school but also a way out into the city of Chicago and the world beyond.
When students leave the halls of Moody to enter the city, they leave a place of safety and academics to pursue real-world outreach.
The arch is a symbol of the bravery of our students and alumni. They do the work that God has called them to do, unafraid to go beyond the arch to reach those who need to be reached.
This is precisely what it means to be an Archer: to seek out the lost.
Our Mascot
Moody Athletics has a mascot that represents a spirit of obedience and selfless outreach while also being serious, competitive and worthy of respect.
That mascot is the sheepdog. He is the embodiment of our calling. He is:
fast
strong
smart
vigilant
unwavering
courageous
and a finder of the lost
He always puts others ahead of himself.
We are Archers, and Archie is our mascot.