COACHING STAFF
Troy Fichter, Head Coach
---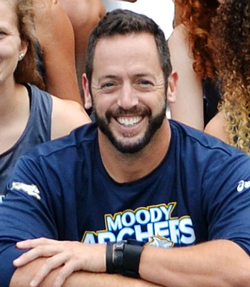 Troy Fichter has had the privilege of coaching Moody Bible Institute's Women's Cross Country Team for five seasons. Fichter is also the Athletic Operations Manager at Moody Bible Institute and is an adjunct instructor in the Lifetime Fitness Department.
Fichter came to Moody Bible Institute in January 2000 to complete a BS in Biblical Studies. He then completed his M.A. in Spiritual Formation and Discipleship from Moody Theological Seminary in 2004. Seeking to combine his biblical training with his passion for fitness and health, he completed a M.S. in Sports Fitness and Health from the United States Sports Academy in 2011. Fichter has been a full-time employee at Moody Bible Institute for the past 12 years and looks forward to God's leading in the years to come, especially in regards to Women's Cross Country and teaching in the Lifetime Fitness Department.
"My hope is that the Moody Women's Cross Country Team will be a light to those they come into contact with, whether it is for encouragement to other believers and each other or to share the Gospel message to those that may not know about our Savior, Jesus Christ," says Fichter. "All ability, strength and blessings are from above and it is for His glory that we run and run hard."
Gabby Keim, Assistant Coach

Assistant Coach Gabby Keim was a varsity runner on Moody's 2014 National XC Championship team and is completing her degree in Urban Ministry. Gaby is a gifted runner and a caring big sister to the team.
Her hard work and dedication makes her an invaluable asset to the team!