Dr. John Trent
Dr. John Trent is the President and Founder of StrongFamilies.com and the Center for StrongFamilies. He is also an award winning author of more than twenty-five marriage and family books, including the The Blessing, The Language of Love, Heartshift, The 2 Degree Difference, and The Treasure Tree (one of his three ECPA Gold Medallion winning books).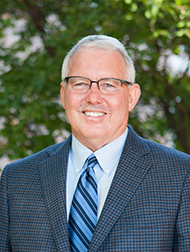 Dr. Trent is a coach and team builder for many different corporate organizations. He has spoken to over 100,000 people in over 65 major cities in the past five years alone, as well as to over 750,000 men at Promise Keepers conferences. He often speaks in corporate settings, including Interstate Battery, Chic-fil-a, YPO Chapter events and YPO Family Universities, The United State Military Academy at West Point, The United States Coast Guard Academy, Restaurant Leadership Conference, and many more.
While Dr. Trent will be teaching out of Moody Theological Seminary now, he has been an adjunct faculty member at Dallas Theological Seminary, Phoenix Seminary, Barclay College and Lancaster Bible College.
Dr. Trent received his BA in psychology and religion from Texas Christian University. He then received his ThM in New Testament Greek at Dallas Theological Seminary. For his doctoral work, he did his class work through the North Central Texas Federation of Colleges and Universities, majoring in Marriage and Family Counseling and minoring in Psychology. He received his PhD in Marriage and Family Counseling in 1984.
He and his wife Cindy have been married for thirty years and have two daughters, Kari and Laura. They live in Scottsdale, AZ with their three dogs.
Becky Byrd
Becky Byrd accepted the position of first executive assistant to the Gary D. Chapman Chair of Marriage, Family Ministry, and Therapy in July 2014. She assists Dr. John Trent with a number of projects with Moody Publishing, Moody Radio, Conference ministries, and the President's office. She also manages his schedule while he is in the Chicago area or speaking on behalf of Moody.

Becky recently graduated from Wheaton Graduate School with a Masters Degree in Historical Theology. She has also studied Spiritual Direction at North Park Seminary and has her B.A. in Bible and Theology from Moody Bible Institute.
Becky has been married to her husband, Steve, for 17 years and has three daughters. In her spare time she enjoys reading, photography, writing, drinking coffee, and exploring new places.