WORSHIP THE KING OF KINGS WITH US
This classic work by George Frideric Handel traces the completed work of Jesus Christ, from the foretelling of His coming through His birth, life, death and resurrection. The entire work is Scripture, set vividly to music and sung by students who believe what they sing.

Join us for this year's historic performance! Tickets go on sale in October.

This year at Handel's Messiah, for the first time, we are pleased to offer a pre-concert lecture with Dr. Chester Alwes, professor and author of Handel's Messiah: the Complete Solo Variants. Registration is free but limited, and available with the main event ticket purchase.
ARTISTS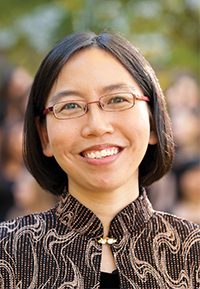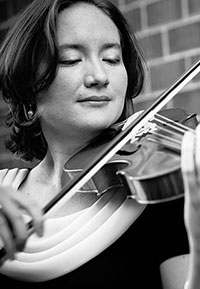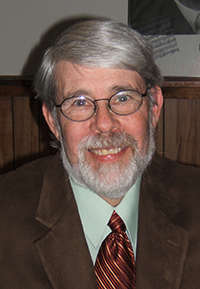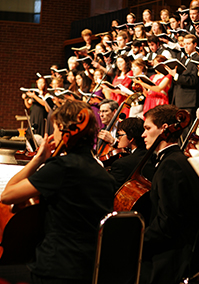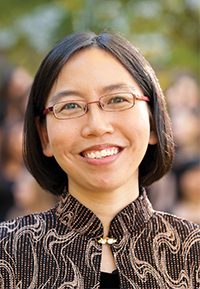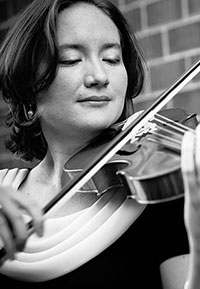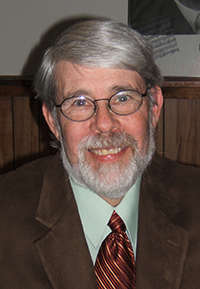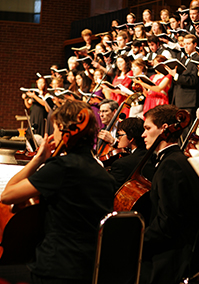 HISTORY OF HANDEL'S MESSIAH
George Frideric Handel's oratorio, Messiah, was written in collaboration with Charles Jennens, who offered the Scripture texts to be woven into the choruses and solos that comprise the work. An oratorio is a combination of choruses and solos, a rendition of dramatic music and text, but presented in concert form without costumes or staging.
Messiah has three distinct parts: prophecy, passion and resurrection. The solos and choruses of each section reflect the emotions identified by listeners: anticipation and comfort, grief and pain, and hope and victory.
Written in just a few weeks, Messiah had its first performance in April 1742 in Dublin. Portions of the music have been performed in nearly all parts of the world. While Scripture bears truth whether in musical form or otherwise, the actual music has been a source of academic rigor and fulfillment for centuries of musicians.
BRING THE MESSIAH HOME
This commemorative CD set captures the best live performances from our 65 years singing Handel's Messiah. Featuring various soloists, chorus and orchestra, it's the perfect way to usher in the Christmas season—and celebrate Christ all year round! We believe what we are singing, and worship through it. It is our prayer that you would worship with us.
Selections on this CD are conducted by:
Gerald H. Edmonds, former conductor of Moody Concert Band and the Moody Chorale; professor of music, 1969–2010 (MMus, American Conservatory of Music).
H. E. Singley III, conductor of the Moody Men's Collegiate Choir; professor of music, 1996–present (DMA, Southwestern Baptist Theological Seminary).
Xiangtang Hong, conductor of the Moody Chorale; associate professor of music, 2006–present (DMA, University of Illinois at Urbana-Champaign).