HOUSING
First-year students are encouraged to rent rooms in investor-owned homes near the Aviation campus, but lease arrangements are entered into independently at the discretion of each student.
About Spokane
---
Spokane is located along the eastern border of Washington State. Spokane is the largest city between Seattle, and Minneapolis. It is 18 miles west of the Idaho border and 113 miles south of Canada. Spokane has many of the amenities of a large city with the comfort and feel of a small town.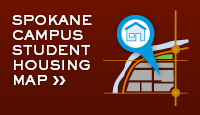 Spokane, Wash.
Quick Facts
Pro: spoh-KAN
Location:
Eastern Washington
- 20 mi. from Idaho
- 110 mi. from Canada
- 232 mi. from Seattle
Population: 209,000
Home to:
- Gonzaga University 
- Spokane River 
- Spokane Falls
- Spokane Int'l Airport
Activities: fishing, swimming, hiking,
kayaking, golfing,
skiing, snowboarding and more.