CHILDREN'S MINISTRY MAJOR
PROGRAM
Moody Bible Institute's biblically based Children's Ministry major will help you engage with children and their families as you develop and lead ministries for them. The academic and scriptural depth of this degree will prepare you for work in a variety of settings or for continuing your education in graduate school. You can also choose the Children's Ministry Interdisciplinary major for additional training in other disciplines and contexts.
Program Plan: B.A. in Children's Ministry - Chicago (pdf)
STUDENT EXPERIENCE

Apply age-appropriate teaching techniques and gain real ministry experience through internships, study abroad programs and mentoring in local churches, camps, after-school programs and other organizations.
FACULTY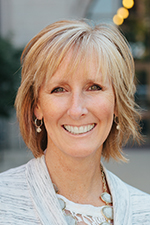 Elizabeth Smith, M.A.
Associate Professor of
Educational Ministries
Timothy Downey, M.A.R.E.
Associate Professor of
Educational Ministries
As you are personally transformed through studying Scripture and theology, you will become part of a tight-knit community of professors and fellow students who have a passion for reaching the next generation for Christ.
ANNUAL CONFERENCE

The NEXT Children's Ministry Conference is an annual conference planned and hosted by Children's Ministry majors at Moody Bible Institute. Its goal is to help equip and encourage others involved in ministry to children through speakers, books, curriculum, and networking.
"From Inclusion to Belonging: Everyone Has a Seat At The Table" is both informational in how the church can embrace children of all abilities and their families as well as worshipful, celebrating the gifts of exceptional people of all ages. Fostering a church community in which everyone belongs and contributes is the heart of this theologically informed, yet practical conference. This is a day that will both inform your ministry and challenge your perspective on exactly who is the church and how we worship in true community.