SPIRITUAL LEADERSHIP ACADEMY
You can sharpen your skills as a pastor or ministry leader at the Spiritual Leadership Academy, where you can study the Bible and develop your knowledge of God's Word. You'll form relationships with other men and women who want to grow as they continue serving in their ministries around Chicago. Learn effective strategies for powerful and sound biblical interpretation.
Courses are offered at Moody Bible Institute's Chicago campus, taught by Moody faculty and staff. Earn a certificate when you complete the course, plus continuing education units (CEU courses do not meet college credit requirements).
ENGAGING SCRIPTURE DEEPLY
Spring 2018
Learn how to walk through a book of Scripture and follow the author's main idea in every section and verse. You'll see why the structure and historical occasion of a book is significant to its meaning. Practice drawing application that aligns with the central idea of the book, the Gospel, and the whole Bible. You'll gain a better understanding of one book, and the ability to use what you've learned to study other books of the Bible.
Attend class one Saturday a month and study for five hours a week.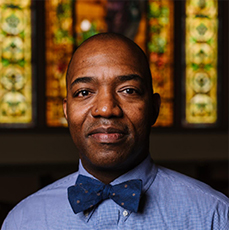 Eric Redmond
Assistant Professor of Bible
Eric Redmond teaches courses in Bible exposition, interpretation, and homiletics. He serves as pastor of adult ministries at Calvary Memorial Church in Oak Park, and wrote Ephesians in the Knowing the Bible Series (Crossway).
View his faculty bio here.
Class Dates
Classes will be on Moody's Chicago campus in the Sweeting Center, room 319, from 8:00 a.m. to noon.
January 20
February 17
March 24
April 21
Cost
$100, plus books and course materials
Course texts
John R. W. Stott, The Message of Ephesians (InterVarsity Press)
Eric C. Redmond, Ephesians: A 12-Week Study (Crossway)
Register Now!
Call (800) 758-6352 to register over the phone, and contact barbara.spurrier@moody.edu for additional questions.
BUSCANDO LA RAÍZ (SEARCHING FOR THE ROOT)
En Buscando La Raíz, Profesor Emanuel Padilla dará un estudio teológico de la Iglesia, su origen e historia, su fundamento y su crecimiento espiritual. Esta clase se enfocará en estudios de eclesiología en cuatro partes: teología, historia de la Iglesia con atención especial a la historia de la Iglesia Latina, el uso de la Biblia en la congregación, y una exploración de santificación. Los estudiantes que completan este estudio podrán
You'll attend class one Saturday a month and spend 5 hours a week in outside study.
Identificar diferentes formas eclesiológicas
Dar clase sobre la historia básica de la Iglesia protestante
Aplicar varios métodos al uso de la Biblia
Usar varios métodos de formación espiritual
Enero–Abril 2018
Nos reuniremos una vez al mes, principalmente el tercer sábado del mes de 8:00 a.m. a mediodía
20 de Enero, 17 de Febrero, 24 de Marzo (4to sábado), y 21 de Abril
Moody Bible Institute Campus, Sweeting Center Room 319
Conoce a otros pastores y líderes de la Iglesia
Pasaremos cinco horas a la semana en un estudio externo
El costo es de $ 100, más libros y materiales del curso
Obtenga un certificado cuando complete el curso, más unidades de educación continua (los cursos de CEU no cumplen con los requisitos de crédito universitario)
Textos Del Curso
Al momento, no hay un texto central para el curso. Estaremos dando materiales en la clase cada vez que haiga la oportunidad.
O llame (800) 758-6352 para registrarse. Para cualquier pregunta adicional, contacte a barbara.spurrier@moody.edu.