EXTERNAL SCHOLARSHIPS
---
Outside scholarships are awarded from organizations not necessarily affiliated with Moody Bible Institute. These funds are awarded based on academic achievement, talent or other criteria. Scholarships usually do not need to be repaid.
All scholarship checks should be sent to Moody, Attention: Treasury Operations. If you would like to know if Moody has received your check, contact Treasury Operations at (312) 329-4223.
Application Process
---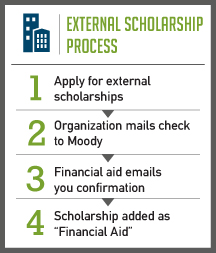 1. Apply for scholarships and grants.

Research external scholarships and grants to see if you qualify for awards. Churches, denominations, ministries and other organizations often present scholarships to active participants.
(View a list of notable external scholarships)
2. Organization sends check to Moody Bible Institute.

If you are awarded a scholarship or grant, the organization can mail the check to Moody Bible Institute at the following address: MBI Dept # 1018 P.O. Box 6500 Chicago, IL 60680-6500. All such checks must be sent with the student's name and ID number.
3. Moody will confirm received check.

One of Moody's financial aid counselors will contact you when we've received your scholarship or grant check.
4. Awards applied.

Your award will be applied to your student bill (as "Financial Aid" in myMoody). The remainding amount will be covered by other student payment options.