DEPARTMENT OF PASTORAL STUDIES
The courses and programs of Moody Bible Institute's Department of Pastoral Studies equips you to engage in pastoral ministry, women's ministries and biblical exposition.
The programs of the Department of Pastoral Studies are designed to:
Equip students to communicate the Scriptures with clarity and relevance
Guide students in the development of a coherent philosophy of ministry
Train students to provide effective ministry leadership and compassionate pastoral care
Provide hands-on ministry experience by engaging students in an internship experience under the guidance of an experienced ministry mentor
---
Department Welcome
---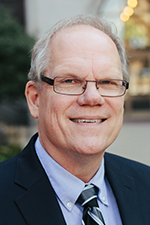 Dear Student,
Jesus said, "I will build my church, and the gates of Hell will not prevail against it." Some people spend years building a house or a skyscraper. But the church of Christ is a building project worthy of a lifetime. Jesus thought so. He gave his life for the church. The church is our passion because it was Christ's passion.
We are looking for a new generation of men and women eager to develop cutting edge ministry strategies in the areas of pastoral leadership, preaching and women's ministries. Our programs place a strong emphasis on practical skills and are capped off by a mentoring experience in the local church. Church ministry is front line ministry and demands the best training possible.
Whether its hands on ministry training with a ministry mentor, using DVD technology to learn how to improve your sermon delivery, or on-site visits with those who are employing "best practices" in women's ministries, our training is designed to help you translate theory into practice.
Are you ready for a challenge?
John Koessler
Professor and Chair
Pastoral Studies Department
Moody Stories - Jonathan
Jonathan came to Christ in a prison cell at age 19 and is now at Moody Bible Institute with a heart for planting urban churches.
---
"God sent me to the perfect place to equip me to be a pastor."
— Kevin, Elizabeth, N.J.
B.A. in Pastoral Studies