This classic work by George Frideric Handel traces the completed work of Jesus Christ, from the foretelling of His coming through His birth, life, death and resurrection. The entire work is Scripture, set vividly to music and sung by students who believe what they sing.
This year's performance is our 65th annual presentation. Join us for this historic performance! Tickets go on sale in October.

When and Where
EVENT DATE:
Sunday, Nov. 13, 2016 at 3:30 p.m.
LOCATION:
Moody Bible Institute
Torrey-Gray Auditorium
840 N. LaSalle Blvd.
Chicago, IL
Parking
Limited free parking is available at the Moody parking garage (208 W. Institute Place, Chicago, IL 60610). The parking garage is open from 1:00 p.m. to 7:00 p.m. Please arrive 45 minutes early. If the garage is full, you will be directed to paid lots. For more information and pay-ahead parking options, see moodyglobal.org/parking.

2016 Performers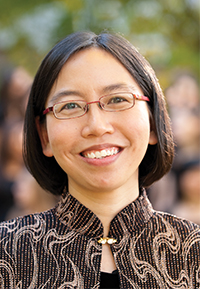 DR. XIANGTANG HONG
Conductor
Xiangtang Hong is professor of music and director of the Moody Chorale. Born in Singapore, Xiangtang felt a passion for choral music when she heard a church choir sing during her early childhood years in America. She later earned a master's in choral conducting from Westminster Choir College with support from the Singapore National Arts Council, followed by a DMA from the University of Illinois at Urbana-Champaign. In 2011 Xiangtang received Moody's Patricia Finch Faculty Excellence Award in Teaching. She enjoys sharing her love of music as a choral clinician and guest conductor, but her greatest joy is mentoring her students.

LEE JOINER
LEE JOINER
Concertmaster
Violinist Lee Joiner joined the Wheaton College Conservatory faculty in 1983. Prior to this he was Artist/Teacher at Blair School of Music of Vanderbilt University and 2nd violinist in the Blair String Quartet. His education includes degrees from Juilliard (B.M., M.M.) and Eastman School of Music (D.M.A.). Summer studies at Aspen Music School, Yale Summer School, Banff Center for the Arts and Early Music Vancouver have played an important supplementary role in his education. Performance and teaching engagements have taken him to Europe, Newfoundland, Ontario and various cities around the United States.
He has performed with many musical organizations in the Chicago area, including the Lyric Opera, Ars Viva, Fulcrum Point, the Orion Chamber Ensemble and the Rembrandt Chamber Players. On campus he is a frequent performer on the Faculty Recital Series. In the summer he is a faculty member at Credo on the Oberlin College campus.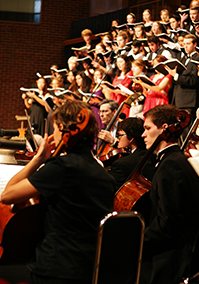 ORATORIO CHORUS AND ORCHESTRA

The Oratorio Chorus is composed of undergraduate students and employees from Moody Bible Institute. The orchestra consists of student instrumentalists and professional musicians from the Chicagoland area.

History
George Frideric Handel's oratorio, Messiah, was written in collaboration with Charles Jennens, who offered the Scripture texts to be woven into the choruses and solos that comprise the work. An oratorio is a combination of choruses and solos, a rendition of dramatic music and text, but presented in concert form without costumes or staging.
Messiah has three distinct parts: prophecy, passion and resurrection. The solos and choruses of each section reflect the emotions identified by listeners: anticipation and comfort, grief and pain, and hope and victory.
Written in a few weeks' time, Messiah had its first performance in April 1742 in Dublin. It is fair to say that portions of this music have been performed in nearly all parts of the world. While Scripture bears truth whether in musical form or otherwise, the actual music has been a source of academic rigor and fulfillment for centuries of musicians.

Recording: Excerpts from Messiah
This commemorative CD set captures the best live performances from our 65 years singing Handel's Messiah. We believe what we are singing, and worship through it. It is our prayer that you would worship with us.
Selections on this CD are conducted by:
Gerald H. Edmonds (MMus, American Conservatory of Music); former conductor of Moody Concert Band and the Moody Chorale; professor of music, 1969–2010.
H. E. Singley, III (DMA, Southwestern Baptist Theological Seminary); conductor of Moody Men's Collegiate Choir, professor of music, 1996–present.
Xiangtang Hong (DMA, University of Illinois at Urbana-Champaign); conductor of Moody Chorale, associate professor of music, 2006–present.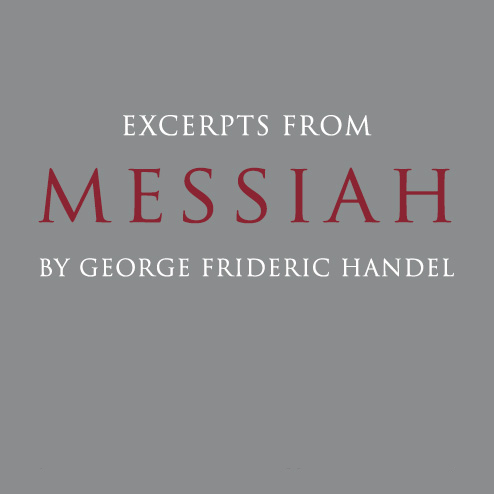 2014 Photos