VETERANS EDUCATIONAL BENEFITS
Moody Theological Seminary is honored to serve veterans and active-duty members of the United States military and their dependents. We invite you to explore your federal Veteran's Affairs (VA) Educational Benefit Programs in your educational pursuits at Moody.
This webpage offers information about using Veteran's Educational Benefits at Moody, providing general information about all Veteran's Affairs (VA) Educational Benefits Programs.
Information about VA Benefits
---
Our Financial Aid Counselors are available to assist you with any questions you may have regarding either your VA Educational Benefits or traditional financial aid programs.
We are honored to participate in the following VA benefit programs:
How to Apply for VA Benefits
---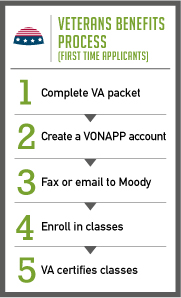 1. Download and complete Veterans' Benefits Packet.
To begin the certification process, please download the Veterans' Benefits Packet.
2. Send completed VA packet to Moody.
Fax packet to (312) 329-4274 or e-mail to alan.mincy@moody.edu.
3. Enroll in classes.
If you are new to Moody, you can contact the Admissions Office at admissions@moody.edu for assistance in the enrollment process. Other students may contact Academic Records.
4. Packet is reviewed and benefits are certified.
Our VA Certifying Official will review your Veterans' Benefit Packet and follow-up with you via e-mail to confirm the processing of your VA benefits.
Questions?
---
If you are not sure what your educational benefits are, you may contact the Veteran's Affairs office at (888) 442-4551, and you will be connected with a VA counselor.
You may request information through the following websites: