Chicago
Moody Bible Institute Undergraduate Commencement
Date
Location
May 15, 2021
The Moody Church
1609 N. Clark St.
Chicago, IL 60614
Moody Theological Seminary Graduate Commencement - Chicago
Date
Location
May 15, 2021
Moody Bible Institute in Chicago
820 N. LaSalle Blvd.
Chicago, IL 60610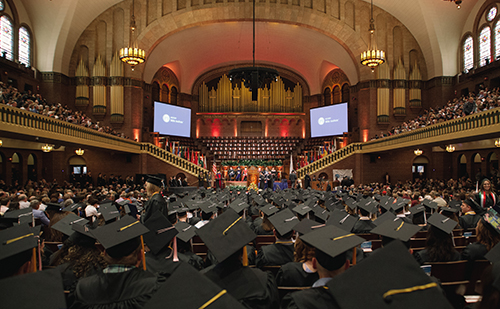 Schedule
| Date | Time | Event | Location |
| --- | --- | --- | --- |
| May 13 | 3–4:30 p.m. | Graduate Commencement Rehearsal | Torrey-Gray Auditorium |
| May 15 | 1–3:30 p.m. | Undergraduate Commencement Rehearsal | The Moody Church |
| May 15 | 10 a.m.–12:30 p.m. | Undergraduate Commencement Ceremony | The Moody Church |
| May 15 | 2–4 p.m. | Graduate Commencement Ceremony | Torrey-Gray Auditorium |
Ceremony
What to Expect
The Ceremony will feature greetings from several members of the MBI faculty, a brief selection of special music and congregational singing, the conferring of diplomas and a charge to the graduates from a distinguished guest speaker of another institution.
Courtesy Guidelines
We ask that all graduates, guests, and faculty members observe conduct appropriate to such an event. Please remember that this ceremony is meant to be a solemn and somber recognition of the hard work done by the students, the faculty, the parents, and the benefactors in earning this academic degree.
Graduate Information
Undergraduate Commencement Ceremony
Graduate Commencement Ceremony
Parking
Parking will be available in the Moody Parking Garage at 208 W. Institute Place, Chicago, IL 60610. We are requesting that all graduates, family and guests remove their vehicles immediately following the ceremony to make space available for our Seminary's Graduation that afternoon. If you have any questions about parking, please e-mail Facilities at facilities@moody.edu.
For more parking information, see Parking on Campus.