Get trained in teaching, cross-cultural skills, and the Bible
You can be equipped to serve wherever God calls you with your Bachelor of Arts in Teaching English to Speakers of Other Languages from Moody Bible Institute. You'll receive teaching preparation, applied linguistics knowledge, and cross-cultural skills from a biblical perspective. Get practical experience doing ministry in Chicago and on your overseas internship.
You can prepare to teach English and become qualified for many TESOL positions around the world.
Program Plan PDF Interdisciplinary Program Plan PDF
Your TESOL Studies
As you study, you'll:
Gain competence in language learning and teaching principles
Integrate listening and speaking, reading and writing, and grammar and vocabulary in your teaching
Learn English teaching and theological foundations for service and outreach
Use what you learn during four semesters of specific TESOL ministry and an overseas internship
Design a course for a local TESOL ministry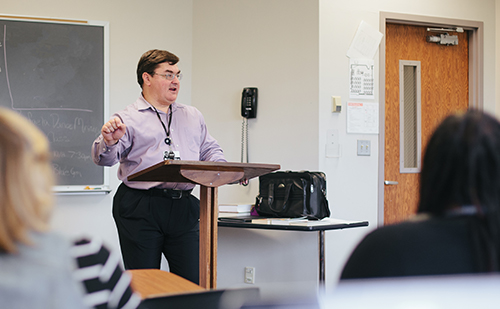 Your TESOL internship
On your overseas internship you'll practice everything you've learned. You'll teach English and form relationships with people from a different culture. You can learn and grow together with your students as you develop your philosophy of TESOL.
Financial Aid
For on-campus residential students, every class in your degree is paid for by the Chicago Tuition Grant, sponsored by faithful donors. Every residential Chicago undergraduate student is awarded this grant, worth up to $12,960 a year. Off-campus commuter students pay $399 per credit hour. Find out how to defray the remaining costs with scholarships, grants, student loans, student employment, and veterans benefits.
Here are programs similar to TESOL