MISSIONS TRIPS
Students can travel on short-term PCM trips in the U.S. and abroad. Previous trips have included service in Utah, Oklahoma's Choctaw Indian Nation, Canada, the Dominican Republic, Haiti, England, Israel, the Philippines, Vietnam and more. These trips, led by faculty and staff of Moody Bible Institute,

give students real, intercultural ministry experience.
Past Spring Break Missions Trips
---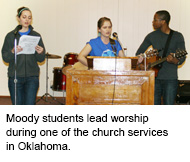 OKLAHOMA
For the 35th consecutive year, Moody served Native Americans in the Broken Bow area of Oklahoma with Native American Bible Ministries and Christian Indian Ministries. Seven students led worship services at a different church each evening and provided music, preaching, Bible lessons for children and shared their testimonies. The team also helped manage a youth camp at Bertram Bobb Bible Camp.
---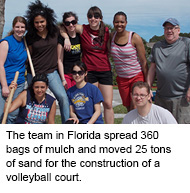 FLORIDA
Ten students served at St. Matthew's House, a Christian rescue mission and recovery facility, in Naples, Fla. In addition to helping at the homeless shelter and thrift store, the team ministered to those in addiction recovery. They led Bible studies and times of prayer, worship services, shared testimonies and enjoyed fellowship over meals with those in the program.
---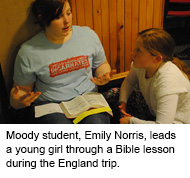 ENGLAND
Moody has been serving in England over spring break for 10 years. Eight Undergraduate School students worked at Formby Baptist Church, located in Formby, a coastal town about a half hour from Liverpool. The team led church services that featured preaching, music and Bible lessons for children. They also assisted with the women's ministry at the church.
---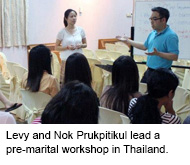 THAILAND
A team of nine Undergraduate School students served in Thailand for the third consecutive year. They assisted Streams of Blessings Church in Nonthaburi with discipleship training, witnessed at juvenile detention centers with Jai Samon Church in Bangkok and ministered to victims of sexual exploitation and trafficking through NightLight International and Tamar Center in Bangkok, and Pattaya. With a local pastor in the rural area of Buriram, they also led an English training workshop for adult teachers and a Bible camp for youth.
---
UTAH
Six MBI–Spokane students traveled to Utah, and primarily in the town of Ephraim. They taught children's Sunday School in the only Christian church in the town. The team also partnered with Tri-Grace Ministries in an outreach event to Snow College students, took part in a service project alongside Biola University students in Santaquin, and shared the gospel with individuals at Brigham Young University and in Salt Lake City.
---
CZECH REPUBLIC
Nine Undergraduate School students majoring in youth ministry served in the Czech Republic, in several cities such as Liberec, Litvinov, and Prague. In Malenvoice they helped promote the Josiah Venture's English summer camps to public high school students, 90 percent of whom are atheists. Through promotional events at local churches the team led devotionals and provided a glimpse for students of what the camp will be like. They also had the opportunity to visit the Youth With A Mission office in Germany and the Auschwitz concentration camp museum in Poland.
---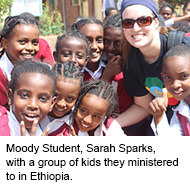 ETHIOPIA
Men's Basketball coach, Dan Dunn, along with 20 students from the men's and women's basketball teams served in Ethiopia for the first time. The basketball teams have ministered overseas since 1995. They visited Addis Ababa and Shire, Ethiopia, working with the local churches and their pastors to advance the cause of Christ through sports.
"A holy life will produce the deepest impression. Lighthouses blow no horns; they only shine."
— D.L. Moody, Founder
Moody Bible Institute