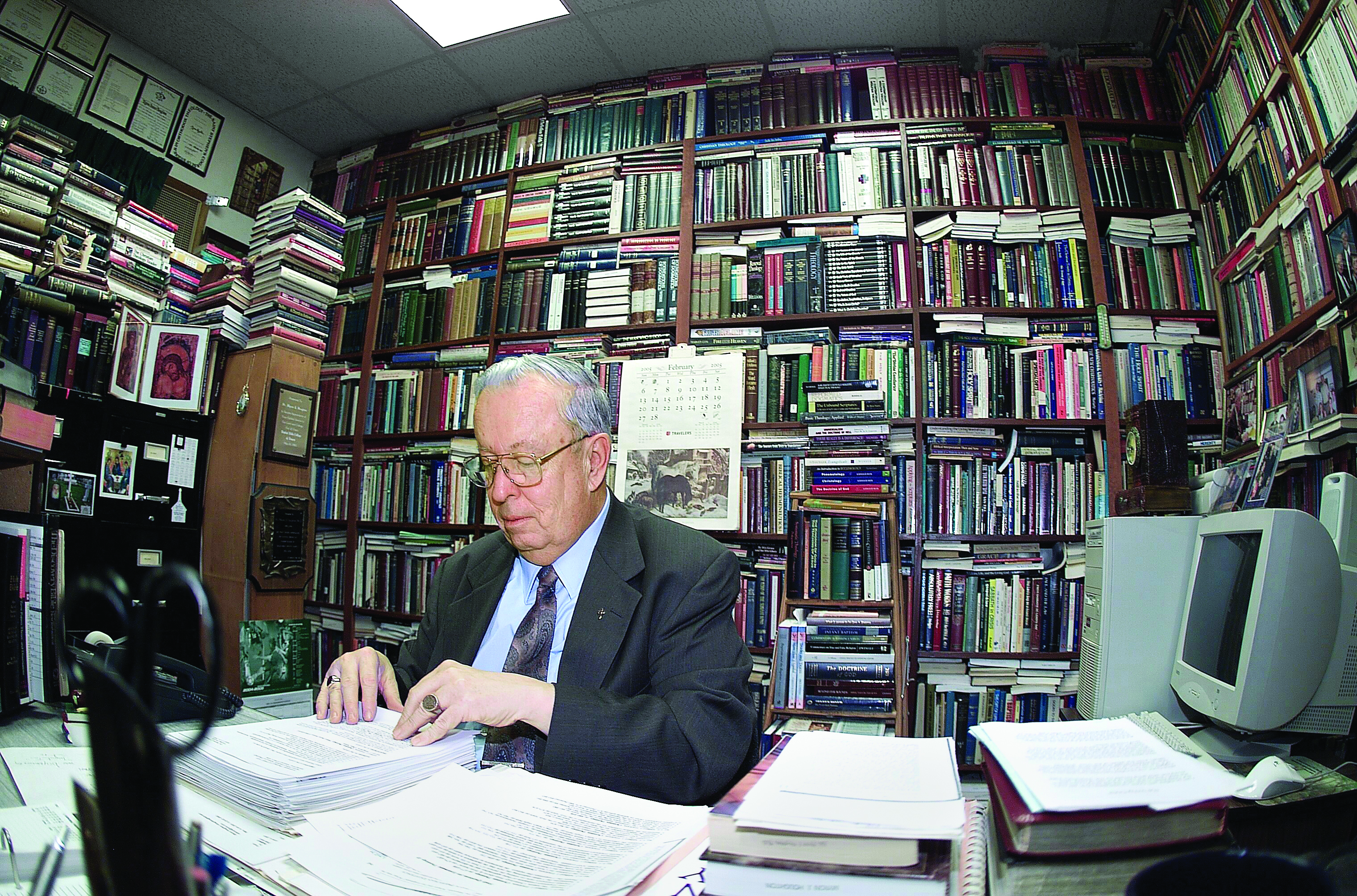 Myron Houghton (1941–2020)
When Myron earned his driver's license, his father promised to pay for either a new car or for Myron's education. So Myron took the offer and left Schenectady, New York, for Moody Bible Institute, graduating in 1962. Years later he still laughed about the deal. He went on to earn 11 degrees, including two doctorates, from 10 institutions. In retrospect, the car would have been much cheaper!
After a long career as a noted theologian and teacher, Myron Houghton died on July 14, 2020, in Ankeny, Iowa, due to complications from COVID-19. He was 78.
Myron earned degrees from Pillsbury College (BD 1964), Grand Rapids Baptist Seminary (BD 1967), Grace Theological Seminary (ThM 1968), Southern Methodist University (MLA 1971), Dallas Theological Seminary (PhD 1971), St. Thomas Theological Seminary of Denver (MA 1977), Concordia Seminary (ThD 1986), and St. Stephen's Course of Studies in Orthodox Theology (Certificate 1995).
He joined the Evangelical Theological Society in 1962, remaining active in the group until his death and becoming one of their longest-tenured members. His twin brother, George, also earned a doctorate at Dallas; both taught at Faith Baptist Bible College in Ankeny, Iowa.
Myron retired in 2019 after nearly 50 years of teaching. His final year of life was marked by many tributes and declining health. He and his brother both contracted COVID-19 and were sent to the same care facility; George was still recovering at the time of Myron's unexpected passing.
"Our life on earth may seem difficult, but in view of eternity, our earthly experiences are only a light and momentary affliction," Myron wrote at the end of his book Law and Grace (Regular Baptist Press). "So we invest our remaining time here on earth in studying God's Word more faithfully."
2010s
Greg A. Hodgdon '16, age 48, May 16, 2020, Woolwich, Maine
A graduate of Moody Bible Institute and New England Bible College in South Portland, Maine, Greg spent the last 13 years serving as pastoral minister at Woolwich-Wiscasset Baptist Church in Woolwich, Maine. Born in Omaha, Nebraska, to Paul and Linda Hodgdon, Greg married Jen Cunningham on August 14, 1993, and the couple had four children. Greg was an active member in his community and enjoyed outdoor activities like hunting, fishing, and hiking. Earlier he taught at Coastal Christian School in Waldoboro, Maine, for five years, and was also employed at Heritage Landscaping and Wiscasset Ford. He is survived by his wife, Jen, and three children, including Emily (Hodgdon '19) Lapointe.
1990s
Ruth Agnes Beam '92, age 93, March 7, 2020, Carol Stream, Illinois
Beginning in 1956, Ruth took classes periodically at Moody for years. She also graduated from London Bible Institute and Theological Seminary in London, Ontario, and Wheaton College in Wheaton, Illinois. She enjoyed a long career as professor of Communications at Moody, teaching speech, oral interpretation, and English composition and literature. Ruth also wrote articles for journals, published book reviews, and contributed curriculum to Scripture Press. Retiring in 1992, Ruth said, "By God's kind grace, you can see how He led at every turn. He gave me thousands of students to challenge and teach. In return, these scholars kept me young for 36 years." In retirement, she enjoyed photography, writing, and "establishing in-depth relationships with God's creative persons."
1970s
Deborah Ann (Powell '77) Loftin, age 66, April 10, 2020, Dyersburg, Tennessee
After her graduation from Moody, Debbie remained in Chicago to work in youth ministry. She married Mark Loftin '81 in 1979, and they had two daughters. Besides partnering in youth work and caring for over 200 foster children, Debbie and Mark served at Camp Hickory in Ingleside, Illinois, and at the New Life Union Mission in Dyersburg, Tennessee. Debbie served as a houseparent at a boarding school in the Dominican Republic and in various capacities at Cedar Ridge Ministries in Williamsport, Maryland, where she became a live-in co-director in 2006. Debbie served in Awana, Sunday school, and the youth group at First Baptist Church of Dyersburg. She was also involved in community Bible studies outside the church.
Stewart Paul Cottle, '77, age 64, Jan. 4, 2020, Sheridan, Michigan
After Stewart completed Moody's pre-aviation course in Chicago, he married Deborah Veldt in 1978. He then transferred to Piedmont International University in Winston-Salem, North Carolina, to continue his aviation training, after which he and Deborah served for a year with ABWE in Santiago, Chile. Stewart worked for a variety of airlines and taught aircraft maintenance at Piedmont in Winston-Salem, Cornerstone University in Grand Rapids, Michigan, and Lansing Community College in Lansing, Michigan. The Cottles and their two children served in Russia from 1998 to 2018. Returning to Michigan, Stewart became advancement manager at Bibles International, and in this role he enjoyed reconnecting with fellow Moody alumni as he attended conferences and other venues around the country.
1960s
Catherine May (Turley '64) Abma, age 80, April 18, 2020, Abbotsford, British Columbia
May earned a nursing degree at Sarnia General Hospital in her hometown of Sarnia, Ontario, Canada. After studying at Moody, May married Hans Abma in 1964 and together they served in church communities in Sarnia. In 1973 they moved to Sault Sainte Marie, Michigan, where they served at Plummer Memorial Hospital and Bethany Baptist Church. Relocating to Cambridge, Ontario, the couple served at Forward Baptist Church. May worked at Cambridge Memorial while attending Teachers College at Brock University. They next moved to Abbotsford, British Columbia, to be with their grandchildren. May continued nursing at Abbotsford Regional Hospital and Cancer Centre, and the couple served at Northview Community Church.
Mary Patricia (Price '67) Smith '69, age 73, May 1, 2019, Dallas, Texas
With her diploma from Moody, Patty married Wesley Smith '69 in 1968, and they had three daughters. Patty completed a BA and worked as an editorial assistant for the Moody Monthly while Wesley finished his degree. In 1978 the family attended language school in Costa Rica with CAM International before serving at Puebla Bible Seminary in Puebla, Mexico. When they returned to the US, Patty homeschooled their daughters, launched an Awana program at church, and became a certified academic language therapist. She tutored students for 27 years. Patty's survivors include Wesley, her husband of 50 years, Joshua and Joia (Smith '93) Lucht '97, and Ethan Lucht '14.
Stephen R. Walley '66, age 75, March 16, 2020, Austin, Texas
Following his graduation from Moody, Steve worked with Ray '66 and Lois (Osterhus '66) Badgero for five years to develop the evangelical church in communist Yugoslavia. Drawn to serve in difficult ministries, Steve's evangelism and discipleship in the local church laid the groundwork for what has become a major church and Bible school today. Steve spent his final year in Austin, Texas, battling ALS. He enriched his family and friends with his faithfulness to Christ and the Word.
Marilyn (Moon) Phillips '63–'64, age 74, Oct. 7, 2019, Hacienda Heights, California
Born in 1945, Marilyn was the daughter of Dr. Irwin Moon, founder of Moody's Sermons from Science and the Moody Institute of Science. Marilyn met her husband, Lyle Phillips '64, while attending Moody Bible Institute in 1964. They married after Lyle's graduation. Marilyn and Lyle attended Morningstar Chapel in Whittier, California, where Lyle served as associate pastor and Marilyn managed the bookstore. Retiring in 2011, the couple followed God's leading to Calvary Chapel New Beginnings in La Puente and West Covina, California. Marilyn discipled women in the church and became the children's ministry director, resigning shortly before her illness.
1950s
Don Beiter '59, age 90, April 19, 2020, Ellensburg, Washington
Already a WWII veteran, Don graduated from Moody in 1959. He became a bush pilot for Missionary Aviation Fellowship in Papua, Indonesia, where he reconnected with Phyllis Griffith '58, a Bible translator. Married in 1962, the couple had four children. They continued to serve God in Indonesia, Central Asia, and on staff with MAF in California. Retiring in 1996, Don and Phyllis returned to Central Asia briefly in 2002, surveying airstrips for reopening after the 9/11 attacks. At age 73 Don traveled 14,000-foot mountain passes on foot and horseback to reach remote airstrips. Don's survivors include his wife, Phyllis, and children Jean (Beiter '89) Lawson and John Beiter '89–'90.
Doris Mae Fell '53, age 89, April 11, 2020, Troy, Michigan
Doris graduated from Moody in 1953. She continued her education at Gordon College in Wenham, Massachusetts, majoring in psychology, and earned an MA in Religious Studies at the University of Dayton in Ohio. Doris served with American Baptist Churches USA as a home missionary for 37 years in Massachusetts, Ohio, and Michigan. For 28 years she served on several community boards and as director of Friendship House in Hamtramck, Michigan. As director, Doris traveled in Michigan and other states, speaking in American Baptist churches about the ministry of Friendship House. Doris was a member of First Baptist Church of Birmingham, Michigan.
Marilyn (Mathieson '55) Newman, age 87, Jan. 9, 2020, Holland, Michigan
Raised in Zeeland, Michigan, by adoptive parents, Marilyn married J. Arnold Newman '54 shortly after her 1955 graduation from Moody Bible Institute. In 1956 the couple moved to Kenya to serve with Africa Inland Mission. Marilyn and Arnold ministered in Kenya and other East African countries until 2003, when they returned to the US to open a new support office for Special Ministries, which Marilyn founded in 1984 under the auspices of Africa Inland Church. Following a brief return to service in Kenya between 2005 and 2007, Marilyn made frequent short-term missions trips until her death. She is survived by J. Arnold Newman, her husband of 64 years.
Ellen L. (Douglas '55) Hanson, age 93, June 1, 2020, Fayette, Iowa
Born in 1927 to Benjamin and Edna Douglas, Ellen graduated from Gates Business College in 1947 and then attended Moody Bible Institute. She married William M. Hanson '55 in 1955, a few months after graduating from Moody. Ellen worked as a secretary at John Deere and Chamberlain Manufacturing before becoming a stay-at-home mother to her three sons, David Hanson '06, Paul, and Stephen.
Franklin D. Hall '55, age 85, June 17, 2019
Franklin attended Moody with the encouragement of his pastor, David Anderson '34. Completing the Pastor's Course in 1955, Franklin next studied classical Greek at William & Mary in Williamsburg, Virginia. After his ordination he founded a mission church in Denver, Colorado, while continuing to serve churches in Tennessee and Virginia. After 19 years at Bethel Baptist Church in Yorktown, Virginia, he was named pastor emeritus. Franklin was instrumental in the development of Northeastern Baptist College in Bennington, Vermont, where one facility will be named in his honor. Franklin also served on the Southern Baptist Mission and Baptist Homes Society boards and the Peninsula Baptist Association. He is survived by his wife and daughter.
Marvin "Bud" Charles Woods '55, age 90, Nov. 11, 2019, Waxhaw, North Carolina
After serving in the Air Force, where a fellow GI led him to the Lord, Bud graduated from Moody in 1955. He married his wife, Gladys (Phillips '53), in 1953 and later
graduated from Embry-Riddle Aeronautical University in Miami, Florida, and Spartan College of Aeronautics and Technology in Tulsa, Oklahoma. Following several years in commercial aviation, Marvin joined Wycliffe Bible Translators in their aviation program, JAARS. From 1964 to 2001 Bud served as a pilot and mechanic in various South American and African countries. In 1999 Bud received the prestigious Charles Taylor Master Mechanic Award. He is survived by his wife and three children.
Betty Lou (Pierson '56) Teasdale, age 85, March 5, 2020, Robbinsville, North Carolina
Betty Lou was born in the Congo to missionary parents Floyd and Amy Pierson. Following graduation from Moody Bible Institute, she served with her husband, Paul, for many years as missionaries in Africa. They moved to Robbinsville, North Carolina, in 1979 to establish The Master's Mission, a ministry committed to training, sending out, and supporting long-term missionaries. Betty Lou is survived by her husband of 62 years and their three children.
Norma Janet (Hahn '56) Powell, age 88, Feb. 19, 2020, Uniontown, Pennsylvania
Norma studied missions at Moody Bible Institute, graduating in 1956. She and her husband, Harry D. Powell Jr. '53, served with South America Missions for 22 years in Bolivia and Colombia. Following her husband's death in 1994, Norma served in several churches as secretary. Among her survivors are her sons, Jonathan Powell '76–'77, Art Powell '81, and Richard Powell '82–'83.
Jack Edward Pittman '58, age 86, May 31, 2020
After earning his diploma at Moody, Ed earned a BA in Biblical Languages from Wheaton College and graduated from Denver Seminary in 1966. He spent nearly 30 years in pastoral and administrative ministries and served with SEND International in Taiwan, Alaska, and Japan on several short-term missions trips. He often said that his days at Moody were the best foundation he could have had for ministry. He is survived by his wife, Mabel (Watkins '56) Pittman, and a son and daughter-in-law.
Donald Victor Volz '53, age 91, Dec. 5, 2019, Ludington, Michigan
Donald joined the US Army Air Corps in 1946, becoming a sergeant before leaving the military in 1949 to attend Moody. Graduating in 1953, Donald studied music at Wheaton College—where he met his wife, Patricia Pullen '47—and the American Conservatory of Music. During his career in music education Donald was involved in several musical and theatrical productions as he taught at Glenbard East High School in Lombard, Illinois, and at Trinity International University in Deerfield, Illinois. Donald retired in 1979 and moved to Pentwater, Michigan. During their 62-year marriage, Donald and Patricia served on several missions trips to Russia and other locations.
1940s
Patricia Elaine (Pullen) Volz '47, Age 93, February 23, 2018, Ludington, Michigan
Patricia grew up in Grand Rapids, Michigan, and received a diploma from Moody Bible Institute in Chicago in 1947. Patricia went on to complete nurse's training at Chicago's Swedish Covenant Hospital School of Nursing in 1950, serving as president of her class. She got her BS from Wheaton College in 1954 and a master's degree from Northern Illinois University in 1971. She married Donald Volz '53 on August 19, 1955. Patricia worked in Illinois as an RN at Swedish Covenant Hospital, an elementary school nurse in Lombard, and a nursing instructor at Elgin Community College. A born-again believer in Jesus Christ, she looked forward to her heavenly reward. Patricia is survived by son Howard (Elaine) of Spring, Texas, a son-in-law, three siblings, including sister, Anita (Robert) Swingle '53, of Grand Rapids, Michigan, and brother Frank (Jackie) Pullen '54 of San Jacinto, California, six granddaughters, and 11 great-grandchildren.
Ann Mae (Vincent '43) Knickerbocker, age 99, June 1, 2020, Wauneta, Nebraska
The 10th of 13 children, Ann was close to her sister, Hilda, who dreamed of attending Moody Bible Institute. When Hilda died in a tragic accident, Ann pursued her sister's dream. During her time at Moody she sang on WMBI Radio, once accompanied by George Beverly Shea on the piano. Ann fell in love with her roommate's brother, Arnold J. Knickerbocker '47, and they married in 1947. Blessed with three children, the Knickerbockers served and pastored churches across the Midwest, eventually settling down in Wauneta, Nebraska. Among Ann's survivors are Rod '68 and Joy (Knickerbocker '69) Wheeler, Todd and Anita (Wheeler '91) Colwell '91, and Alecia Colwell '11.
Margaret (Haggai '47) Johnson, age 94, March 21, 2020, Cathedral City, California
Margaret married her church sweetheart, Vern Johnson, in 1947, the same year she graduated from Moody. In 1957 they moved with their five children from Michigan to California. Margaret had developed a passion for music and writing during her time at Moody, and she regularly played piano at Calvary Baptist Church in Grand Rapids, Michigan, and First Baptist Church of Canoga Park in Canoga Park, California. Margaret published several books, including Eighteen, No Time to Waste (Zondervan), which she wrote about her daughter, Kathi, who was killed in a car accident. Margaret also served as assistant to the founders of Childhelp USA, a non-profit organization working in the field of child abuse and neglect. Among her survivors is her son, David W. Johnson '90.
Fanny Mae (Sargis '41) Lind, age 101; Jan. 25, 2020, Hayward, California
Fanny Mae was born in 1918. She worked at Scripture Press and Moody Press while attending Moody, and after graduating she served with Child Evangelism Fellowship in Chicago. In 1943 CEF sent her to open and manage an office in Santa Monica, California. At a Bible conference in Hollywood she met Dr. Robert Munger '32–'33, who invited her to work at his church in Berkeley. There Fanny Mae met Bob Lind, whom she married in 1951. Fanny Mae served as a homemaker and mother to their two daughters. She also taught Sunday School for many years. She was preceded in death by her husband.
Wayne Allen Moline '48–'49, age 92, Jan. 3, 2020, Crown Point, Indiana
Wayne was born in 1927 in Chicago, Illinois, to the late Otto and Ruth Moline. Having graduated from Chicago Vocational High School, Wayne served in the US Army during WWII, after which he attended Moody. Wayne enjoyed 32 years of retirement. His wife, Marcene Ruth Moline, preceded him in death. He is survived by his two children, two grandchildren, and a great-grandson.