SPIRITUAL ENRICHMENT
Chapel
---
The chapel program is an important part of Moody Bible Institute in Spokane's educational experience. Chapel seeks to enhance Christian life and character by encouraging the discipline of corporate worship and addressing issues related to Christian living. It also serves as a strategic time to develop campus community. Students, staff, and faculty have the opportunity to influence chapel by serving on the Chapel Committee.
Student Services facilitates Chapel at the Spokane campus three days per week, except on holidays or during the final week of the academic semester. They also offer chapel four days per week at the Advanced Training Hangar for Moody Aviation students in years 2–5.
Practical Christian Ministry
---
Practical Christian Ministry is an integral part of the education process at Moody. Students contribute 18,750 service hours per semester into the greater Spokane community. 80 percent of our students serve within the context of a local church while 20 percent serve in non-profits such as World Relief, Salvation Army, Union Gospel Rescue Mission, Life Services, and multiple mentoring programs in local public schools.
Upon graduation, many students express the experience of PCM and internships added a natural dimension for them to work out what they learned in the classroom environment. As a Moody student you will have every opportunity to get intentional, practical experience from practitioners who love to work with students.
---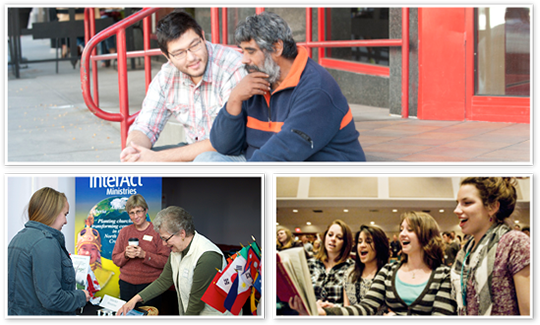 ---
MISSIONS CONFERENCE

---

An extension of the undergraduate curriculum, the annual Mission Conference reflects a core value of Moody Bible Institute: missions. In partnership with local and national mission agencies, the conference provides an opportunity to learn about global work of God, to worship God through prayer, teaching and preaching, and to contemplate the roles of missions in the life of every Christian.

FOUNDER'S CONFERENCE

---

Founder's Conference is a two-day Bible conference held every February, commemorating the birthday of world renowned 19th century pastor, preacher, and Moody Bible Institute founder, Dwight Lyman Moody.

Students, faculty and staff are joined by the general public to learn from God's Word by today's foremost Christian teachers and leaders and engage in worship and fellowship. Founder's Conference is free of charge and open to the general public.

24-HOUR BIBLE READ

---

During the fall semester, students have the opportunity to proclaim and hear 24 hours of God's Word as it is read aloud on campus. The goal is for the Moody family to be individually renewed and transformed by the Word of God.

GROW WEEK

---

In the spring semester, students participate in a week-long, culturally relevant emphasis on spiritual formation called Grow Week. During this week, students will encounter guest speakers during chapel and themed events throughout the week. Optional events include a worship night, panel discussions, round table desserts, and a free-flowing worship service.
 "The thing that I love most about Moody is the spiritual atmosphere. It is wonderful to attend chapel three times a week and experience classes taught by godly professors who are continually challenging us to become more like Christ."
— Benjamin