Train to be a missionary aviation mechanic
When you earn your Bachelor of Science in Missionary Aviation Technology—Maintenance from Moody Aviation, you prepare to serve as a missionary aviation mechanic anywhere. Study under faculty who have a passion for God's Word. Gain training in the Bible and theology to prepare you to serve God wherever He calls you.
You'll receive one on one mentorship in aircraft maintenance skills and in life, as you do live aircraft maintenance. Complete airframe rebuilds, engine overhauls, and avionics installations in a facility dedicated to maintenance specialists. During your final term of training, select your focus and gain additional experience in helicopter maintenance, avionics installations, or aircraft inspections.
Your Missionary Aviation Technology—Maintenance program studies
As you study, you'll:
Study the Word of God and apply what you learn serving with local ministries
Become an FAA certified Airframe and Powerplant Mechanic
Perform intensive, detailed work on live aircraft to prepare you for serving in the mission environment
Gain experience leading a team in an aircraft maintenance shop
Qualify and prepare to test for your FAA Inspection Authorization within six months of graduating, so you can gain the authority to return an aircraft to service after an FAA-required annual inspection

Prepare for the responsibility of missionary aviation shop management

Develop your skills during your two-week vision trip and four-week internship
Meet Your Missionary Aviation Technology - Maintenance Professors
You'll get to study with professors who have years of experience. Many have served in missionary aviation maintenance overseas, and some are currently on loan from mission aviation agencies. Learn from Brian Writebol, Daniel Appleby, and Robby Matthews.
Graduates from the Missionary Aviation Technology—Maintenance program
When you graduate, you'll be prepared to join a mission agency immediately. Your maintenance program will be tailored to equip you to maintain aircraft anywhere in the world. You'll also have the technical expertise to manage a missionary aviation shop, and be prepared for your FAA Inspection Authorization testing.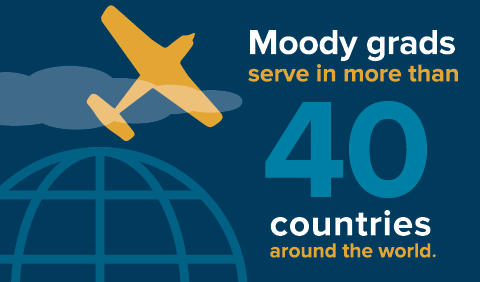 Financial Aid
Tuition for Moody Aviation is $450 per credit hour, and students live off-campus in investor-owned homes. You can defray the costs with scholarships, grants, Moody's payment plan, student loans, student employment, and veterans benefits.
In addition to other forms of financial aid, students in their final years of the Missionary Aviation Technology program are eligible for a specialized forgivable loan program (FLAPS).
Here are programs similar to Missionary Aviation Technology - Maintenance