You can learn to preach from any biblical text
When you earn your Bachelor of Arts in Biblical Preaching from Moody Bible Institute, you gain the ability to develop relevant messages based on God's Word. Learn biblical exegesis and how to form your message to your audience. You'll study genres of biblical literature and learn to deliver sermons from them using different methods. Prepare for a future with preaching as the primary focus of your ministry.
Program Plan PDF Interdisciplinary Program Plan PDF
Your Biblical Preaching Studies
As you study, you'll:
Learn to exegete a Bible passage in one of the biblical languages
Develop a message from any literary genre in Scripture
Analyze your audiences and form contextually relevant sermons
Practice what you're learning in your PCM and internship
Deliver expository messages using engaging vocal dynamics, gestures, and movements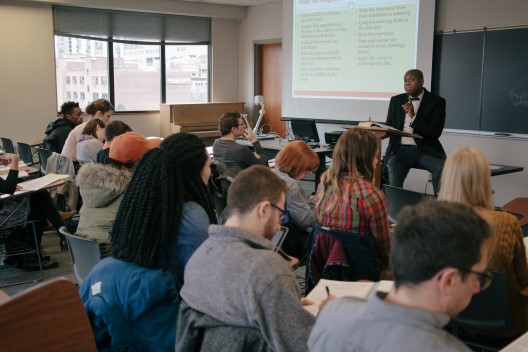 Meet your Biblical Preaching professors
Study with faculty who have years of practical and academic experience. Learn from Kerwin Rodriguez, professor of Biblical Preaching.
Jobs you can get with a Biblical Preaching degree
When you graduate with your BA in Biblical Preaching, you'll have the practical skills for a wide variety of careers. You can:
Preach in a church
Teach others how to exposit Scripture
Share the gospel effectively
Serve in a ministry position
Financial Aid
For on-campus residential students, every class in your degree is paid for by the Chicago Tuition Grant, sponsored by faithful donors. Every residential Chicago undergraduate student is awarded this grant, worth up to $12,960 a year. Off-campus commuter students pay $399 per credit hour. Find out how to defray the remaining costs with scholarships, grants, student loans, student employment, and veterans benefits.
Here are other programs similar to Biblical Preaching