Dining Services
Our goal is to motivate the MBI community to serve Christ by exceeding expectations with fresh, wholesome meals while displaying Christ-like service and attitude as we follow through in our responsibilities.
Find additional information on Student Dining Options and Student Meal Plans below. For other content related to Dining Services, please visit the Dining Services section of student-life.moody.edu.
Student Dining Options
(Chicago Campus)
Student Dining Room
Located in the lower level of the Alumni Student Center, the SDR contains a wide variety of healthy, fresh food options. Along with the main entrée, we serve a vegetarian option, deli bar, pizza, a variety of desserts and have recently added a non-certified gluten-free corner.
Regular Hours
Mon-Fri
6:30-8 a.m. (hot breakfast)
8-8:45 a.m. (continental)
M/W/F 11:15 a.m.-2 p.m.
4:30-6:30 p.m.
Saturday
8-9:30 a.m.
11:30 a.m.-1:30 p.m.
4:30-6:30 p.m.
Sunday
7:30–9 a.m.
12:30–2 p.m.
Not Served
Regular Hours
Mon-Fri
6:30-8 a.m. (hot breakfast)
8-8:45 a.m. (continental)
11:15 a.m.-1:15 p.m.
4:45-6:15 p.m.
Saturday
8-9 a.m.
11:30 a.m.-12:30 p.m.
5-6 p.m.
Sunday
8-9 a.m.
12:30-2 p.m.
Not Served
The Commons
Our retail café on the Alumni Student Center first floor offers full grill service, fresh pizza, homemade soups, salad bar, daily specials and numerous meal combos for staff and students to purchase. Wireless Internet access is available.
Commons Hours
Normal Hours*
7 a.m.–10 p.m.
Breakfast Served
7 a.m.-10 a.m.
Lunch Served
11 a.m.–1 p.m.
Closed
Sat-Sun
Summer Hours
7 a.m.-2 p.m.
*Closed 10–10:30 a.m. for cleaning and lunch prep. Closed Tuesdays during President's Chapel from 10–11 a.m.
Joe's Coffee Shop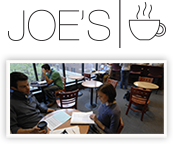 Joe's Coffee Shop was named in honor of Moody's 7th President: Dr. Joseph Stowell. Considered to be the campus "living room," the unparalleled Joe's Coffee Shop is located on the 2nd floor of the Alumni Student Center and provides a comfortable atmosphere for studying, conversation and relaxation.
This student-run coffee shop offers a wide variety of high quality espresso drinks, regular drip coffee, teas, smoothies and pastries. Joe's hosts live music, provides a popular gathering space, and aims to support the creativity of the student body.
Joe's Hours
Normal Hours
M-F 7:30 am-9 pm
Not Served
Sat-Sun
Student Meal Plans
Students are automatically enrolled in the 15-meal plan. If students would like to change their meal plan they will only need to contact the Dining Services Office at (312) 329-4324 or diningservices@moody.edu by the end of the second week of classes each semester. Unless otherwise requested, each student will remain on the meal plan in which they are currently enrolled.
Funds can be added to student fobs or to a Dining Services Card to make quicker and easier purchases at any of our Dining Services locations. One favored spot is Joe's: our unparalleled, student-run coffee shop which offers a relaxing atmosphere for studying or breaks. We also have The Commons, our premier retail café where they can quickly grab freshly made grill options, pre-made sandwiches, or their desired snack.
Which Meal Plan is Right for You?
Commuter/Graduate/Seminary student Meal Plans