Alumni Awards
The Alumni Association recognizes alumni and faculty who exemplify a life of loyalty to Christ, honorable character, ardent service, and accountability to the Word of God as seen in 2 Timothy 2:15:
Study to show thyself approved unto God, a workman that needeth not to be ashamed, rightly dividing the word of truth.
To be eligible for Alumnus of the Year or the Distinguished Service Award, nominees must have graduated from any of MBI's programs. Alumni who are married can be nominated as a couple. Faculty Citation Award recipients are nominated by department chairpersons for effectiveness in the classroom, writing achievements, significant public ministry, and involvement with students. The Alumni Board of Directors chooses all recipients.
All Moody alumni are encouraged to nominate individuals whom they would consider deserving of such recognition. To nominate an individual, fill out this form.
2023 Alumni Awards
The Alumnus of the Year 2023
---
2023 Alumnus of the Year Award Livestream Acceptance Speech (Dr. Wes Stafford)
Faculty Citation Award
---
2023 Faculty Citation Award Livestream Acceptance Speech (Dr. Gerald Peterman)
2023 Faculty Citation Award Announcement
2023 Faculty Citation Award Livestream Acceptance Speech (Elizabeth Smith)
Alumnus of the Year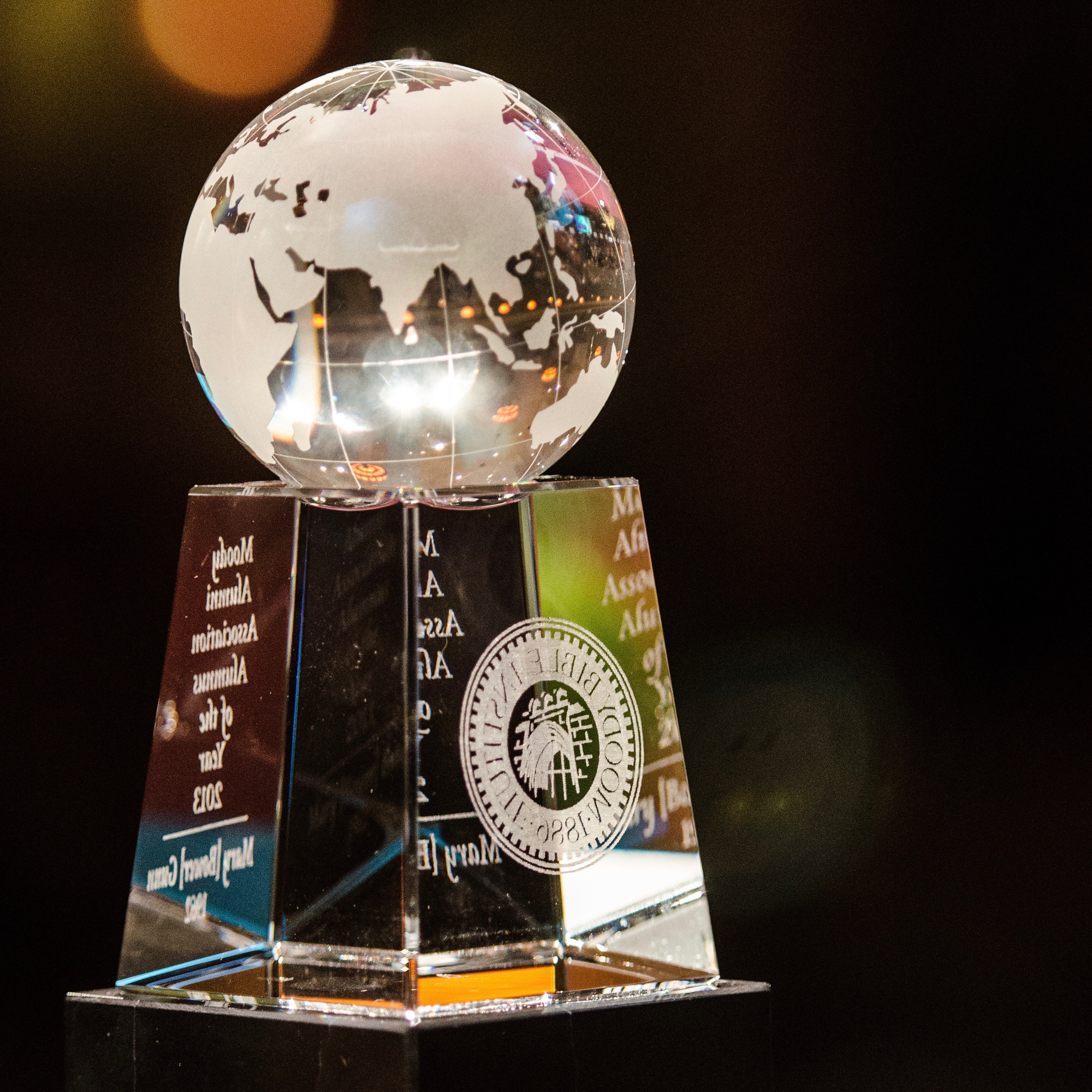 The Alumni Association recognizes an outstanding graduate during Founder's Week, annually presenting the Thomas S. Smith trophy, which is named for a former Moody trustee and Chicago business leader.
RECIPIENTS
Faculty Citation Award
Through the Faculty Citation Award, the Alumni Association annually recognizes a faculty member for outstanding achievement in his or her field. This is based on attitude, writing achievements, public ministry, effectiveness in the classroom and involvement with students.
RECIPIENTS
Distinguished Service Award
With this award, the Alumni Association recognizes the achievements and service of Moody alumni. Graduates are selected and honored who exemplify faithfulness to Christ, perseverance in service, and contribution to advance the cause of Christ around the world. Alumni are nominated by their peers, and the Alumni Board of Directors prayerfully considers and approves the award.
RECIPIENTS