Communities
Help build a strong network of Moody Alumni by joining a Facebook group for your region. Share life together – plan events – network for career and ministry. Meet Moody alumni from other eras and backgrounds as you make new friends and rediscover lost classmates.
By joining an Alumni Community, you can . . .
Connect with alumni who live and minister near you
Make new friends, share prayer requests, encourage others
Have a Christ-like impact on your community
Plan local gatherings
Share local events and invite fellow alumni to attend
Network for career and ministry
Get current news about Moody Bible Institute and the Alumni Association
Find out when athletic teams, music ensembles, and Moody events are in your area.
Help with volunteer projects
Encourage financial support of Moody Bible Institute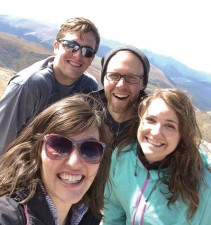 Each local group is led by an Alumni Community chair who edits the Facebook page, promotes community, and plans events
How to Join Your Local Community
Find your community on the chart below:
| | | |
| --- | --- | --- |
| California | Florida | Georgia |
| Illinois | Indiana | Kansas |
| Kentucky | Missouri | New York |
| North Carolina | Ohio | Tennessee |
| Washington | Washington DC | |
Don't see a community in your region? Contact our office for more information on how to get one started! Email mbialum@moody.edu or call (312) 329 - 4412.