Yuki Lee: 'We have hope in Christ'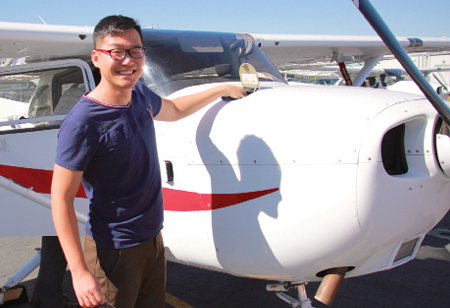 Joochan "Austen" Lee
Yuki (Kaike) Lee '17 first met Joochan "Austen" Lee in an intercultural studies class at Moody Bible Institute in Spokane. Her tablet was shattered and he offered to fix it.
"I immediately became crazy about him," says Yuki, 26. "I feel like my feelings for him just got stronger and stronger." She was a TESOL major and he was an aviation major who felt called to become a missionary pilot.
Yuki was born in the United States, but both grew up on the mission field. Yuki's parents served in Japan, and Austen's Korean parents served in Central Asia (Uzbekistan and Kyrgyzstan). "We saw that as a big connection between us," she says. "He was 'all in'—just a great spiritual leader to me, a great minister at church, a great student," she says.
When Austen talked about his desire to fly medical missions and deliver supplies in hard-to-reach places, Yuki was also "all in." "I just really liked Austen, so I was like, whatever you want to do, just do it." They married in April 2017, and Yuki graduated from Moody a month later.
They waited a year before taking a honeymoon trip to California, where Yuki started feeling sick. "We took a test and found out I was pregnant!" she says. Austen was nervous about being able to support the family financially, but at the same time he was excited about becoming a dad.
"We definitely prayed a lot together, especially after I found out I was pregnant," she says. They also prayed for their parents' mission work. "And to be financially provided for Austen's schooling, too—that was one of our biggest prayers."
Every semester, somehow the funds were provided, either from anonymous givers, donors, or through scholarships. Austen was encouraged when he learned an anonymous donor had paid his school debt for the last semester.
Yuki was also thrilled. "I was really happy because I always wanted to be a mom," she says. "The fact that I was having a baby with the person I love was something I was really looking forward to."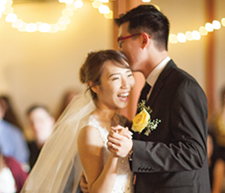 Yuki and Austen Lee
But at 10 weeks pregnant, she would end up going to her first ultrasound appointment without Austen.
The day before, on July 13, she was on her lunchbreak at the Christian preschool where she worked when she received the devastating news from Moody Aviation. The director called to tell her there was a plane accident involving Austen and there were no survivors. Some Moody staff members were coming to pick her up so she wouldn't have to drive home.
At first she thought it was a joke. "I couldn't believe it," she says. "But when the staff actually came to pick me up, that's when it hit me."
Her parents were shocked, but they came from Japan immediately, and her mother went with her to the ultrasound. "I thought it would be really hard for me to see the baby, but I was filled with joy to see the new life God had put in me," Yuki says. Seeing her baby in the ultrasound picture gave her a reason to be strong.
Her parents plan to come for a few months to help her care for her baby, due in February. And as her child grows up, she says, "I'll tell the baby that his dad is a great man, and he's now in Heaven with God. And I want to remind the baby about the hope that we have because we are Christians."
"I definitely have some moments where I have anxiety," she admits, "just because I didn't choose to become a single parent. That's definitely hard, but even after the accident, God is still providing so much for me, so I trust that God is going to do His wonder and that I don't need to worry about it."
Surrounded by close friends in the Moody community, Yuki recognizes that Austen did not die in vain. "I see a lot of people becoming more motivated to become a missionary," she says. "Also, some have told me that they notice that life is short and they just want to use their life for God."
After the accident, a good friend of Yuki's shared 1 Corinthians 15:55–57 with her: "'O death, where is your victory? O death, where is your sting?' The sting of death is sin, and the power of sin is the law. But thanks be to God, who gives us the victory through our Lord Jesus Christ."
Those verses encouraged Yuki with eternal hope. "If we weren't saved, then death would be the end, and that's just sad," she explains. "But because we are saved, we have hope in Christ and death is not in vain; it is actually a victory."
Gifts for the Lee family
Online giving at GoFundMe, or checks may be made out to Yuki Lee and mailed to:
Yuki Lee
PO Box 93
Colfax, WA 99111
Read all three stories in this series: